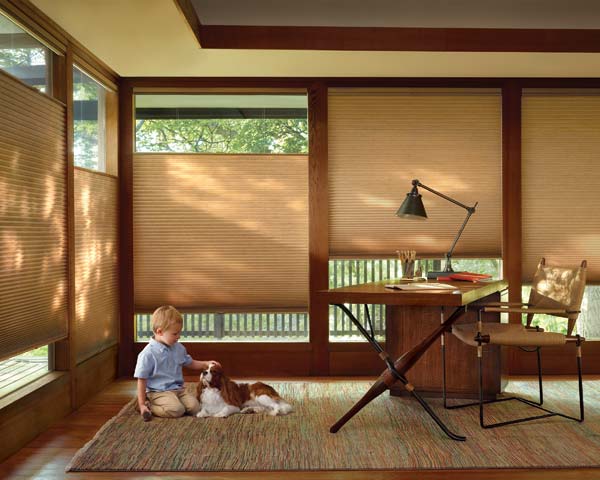 Are you looking at your windows and thinking "it's time to upgrade?" Maybe you just installed new windows and now your old blinds are not fitting right. You've come to the realization that you need to select blinds for your windows. First, consider if you are looking for blinds or shades and then begin thinking about the different options available. Things to think about when you select blinds include:
What kind of window or door are you installing blinds onto?
Certain styles of blinds and shades work better on French patio doors than they would on a double hung bedroom window. When selecting blinds or shades for a patio door, it is important to know how the blind functions compared to how the door functions otherwise you may have difficulties opening the patio door easily. If you are considering purchasing blinds or shades "off the shelf" it is important to remember they are only available in certain sizes so they may not fit your windows properly. When it comes to specialty windows and specific needs a blind specialist is an expert at finding the perfect solution for each situation. Through experience and training they have learned how to dress a window according to the client's needs and desires and can order sizes specific to your windows and patio doors.
What material is best for your needs?
Material choice, such as wood versus fabric, has an effect on several factors like the look the window treatment will give your home and how much light will be blocked out when closed. A Luminette sheer will soften the harshness of the sun's
rays while still allowing views from the outside to be seen. Wooden blinds allow more control of how much sunlight is let in and with an additional feature of de-Light by Hunter Douglas virtually all light can be blocked out when the blind is closed. Both soft shades and wooden blinds are available in a rainbow of colors and can be matched to any design style with the option of light control from sheer to opaque for complete privacy as well as blocking out the sun's harmful UV rays and helping with the solar heat control for your home. Knowing how the room is will be used is another key to knowing which material is best suited for your windows or patio doors
How do you want to operate your blinds or shades?
Imagine opening your blinds. You probably visualized pulling a cord or pulling down on a roller shade. Did you know you can open or close your blinds and shades with your smartphone? Traditional cords are an option for operating blinds as well as cordless systems where you simply pull or push from the bottom of the blind. Motorized options are also available that include programmable remote controls. Operation options like cordless and motorized are great choices for homes with children and pets. (Visit the Window Covering Safety Council's website for more safety information.)
Above are just a few of the things you might want to consider when you are vetting your options for blinds and shades. The main points are to think about your specific window size and functionality, what you need from your blinds (light blocking versus humidity resistance), and how you want the blinds to open and close. Whether you choose a blind or a shade, there are unlimited choices to fit your functional needs and your style needs too.
Our home improvement experts are committed to helping turn your home renovation dreams into realities! Stop by one of our showroom locations in either Fargo or Bismarck, or give us a call at 800-743-3632 to set up a free in-home consultation or a virtual consultation. We can talk to you no matter where you are through our virtual consultation service.
Share with your friends | Stay tuned for more blog posts