Weathering Storm & Hail Damage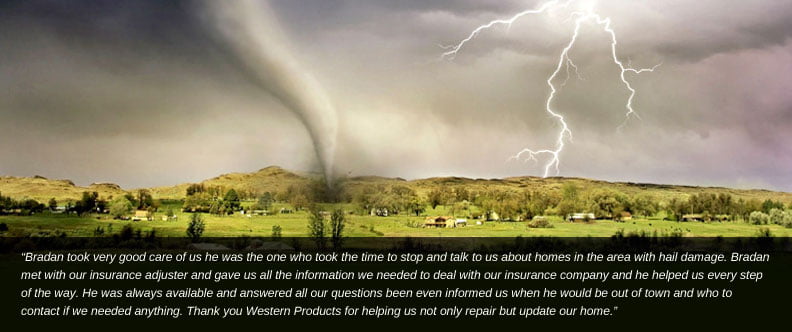 Combat Storm & Hail Damage before it's too late!
If you've weathered a recent storm, it's a good idea to have your home or business assessed for damage that may not be visible to the untrained eye. Because of this, Western Products offers free exterior damage inspections to identify any storm or hail damage that may have occurred.
For instance, pitting and mold caused by storm damage can lead to premature shingle aging and leaks. This needs to be caught early on. Insurance companies typically only pay claims for damage sustained and filed within six months to one year of the event. In other words, don't delay; call 800-743-3632 today for a free inspection!
Your Home Improvement Specialist
If we discover hail or storm damage during our inspection, we will provide you with a free, no-obligation quote. Additionally, we will assign you a dedicated home improvement specialist to help navigate the repairs process and complex insurance claim. They will work directly with you to ensure all of your questions are answered and your project is completed!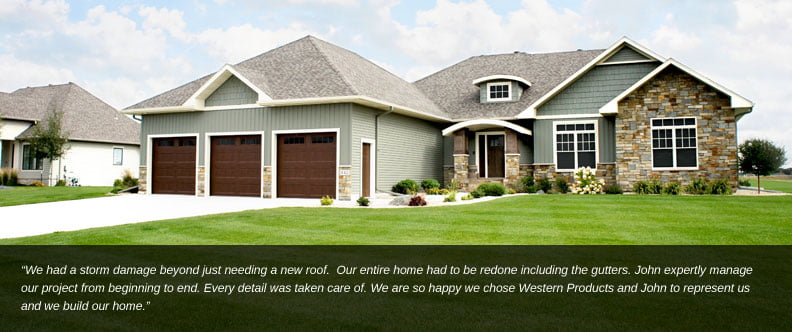 Residential Properties & Homeowner Services
Property/Storm Damage Inspection & Assessment
Many homeowners don't realize that storm damage is not always visible or easily identified. Unfortunately, even the slightest tears or pitting can lead to costly leaks later. When severe weather blows in, it's always wise to have your home inspected for damage right away. After all, insurance companies will only cover claims filed within six months to a year of the date of damage.
That's why we're here to help! Contact Western Products today for a FREE storm damage inspection.
Roofing, Siding, & More!
We partner with and are certified by the most established manufacturers of roofing and siding materials in the industry. Without a doubt, you can trust our products to protect your home from storm and hail damage. Moreover, you will rest assured that your investment is protected by an excellent warranty.
Western Products offers quality materials, professional installation, and competitive pricing. In addition to seamless steel siding and LP SmartSide, you'll also find Hardie board, Versetta Stone, doors, windows, soffit, fascia, seamless gutters, and more!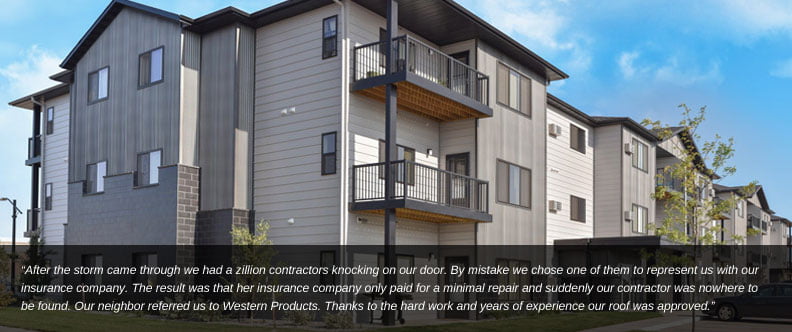 Commercial Properties & Services
Western Products has extensive experience with large-scale commercial projects, as well as building code requirements. We'll work with you to make sure our work doesn't disrupt your normal business operations. Also, our specialized commercial project staff will be with you every step of the way.
Comprehensive Commercial Inspections
Every year throughout the Upper Midwest, severe hail and wind storms cause millions of dollars in rental and commercial property damage. In addition, most property owners and management companies are not aware of the damage. As time passes, even the slightest damage can turn into major deterioration that affects the property's value.
As a result, Western Products routinely performs comprehensive inspections and assessments of commercial properties. Furthermore, we provide professional advice to restore your property and maximize its value. For projects involving a property damage insurance claim, we're happy to be your expert in property damage restoration.
Commercial Roofing, Siding & More!
When it comes to large-scale, exterior restoration, Western Products is your one-stop-shop. Our expertise spans commercial buildings, churches, apartments, townhomes, condos, homeowner associations, and every space in between!
Commercial Property Solutions
Roof maintenance
Full-roof replacement
Property storm and hail damage assessments
Insurance claims assistance
Reconstruction assessment, recommendations, and project coordination
Siding, windows, gutters, manufactured stone veneer, and more
Learn more about our commercial property solutions today at 800-743-3632.
Settling your Claim 
Whether yours is a capital budget or insurance restoration project, our staff will find the best solution to fit your personal needs. In fact, we've spent the last 20 years helping property and business owners settle thousands of insurance claims due to storm and hail damage.
Contact Western Products today for a FREE storm and hail damage inspection.
Get a Free Storm Damage Inspection Today
Since 1948, our focus has been on quality products, professional installation, and exceptional service. This is how Western Products has become the most trusted name in home improvement in the Upper Midwest!
Schedule a free hail damage or storm inspection today by calling Western Products at 800-743-3632. Or, simply fill out our convenient request form.