ProVia® Fiberglass Entry Door Collections

Update your Home with a Custom-Designed ProVia® Fiberglass Entry Door from Western Products!
As an extension of your home's interior design, your front door is the focal point of your exterior. In fact, it's considered a small preview of the style guests might find inside. In the same fashion, every component of your home (interior and exterior) works in harmony to create one distinct look. If you need help refining your style, a new fiberglass entry door from Western Products might be your perfect solution!
Fiberglass Entry Door Experts
If you're considering an exterior overhaul, thankfully, Western Products makes it easy to redesign your guest's grand entrance. Together with our fiberglass entry door experts, we invite you to choose your style, glass, paint, stain, hardware, and accessories. After all, a warm, personalized welcome is all about combining character and curb appeal!
Replacing your old door with a quality fiberglass door is a quick way to renew your home's overall appearance, and also increase its value. ProVia® may rely on technology for their high-definition wood designs, but their art glass, staining, and glazing are completed by the hands of highly-skilled craftsmen. Choose from four different collections, all with varying features to suit any style:
Signet doors use an exclusive DuraFuse™ Finishing System for the most authentic representation of woodgrains such as Cherry, Mahogany, Fir, and Oak
Heritage doors are artfully stained and painted to deliver true woodgrain texture with the durability and security of fiberglass
Embarq doors are the most energy-efficient option, offering a Quad Glass System, ENERGY STAR® Certification, and a 10-year finish warranty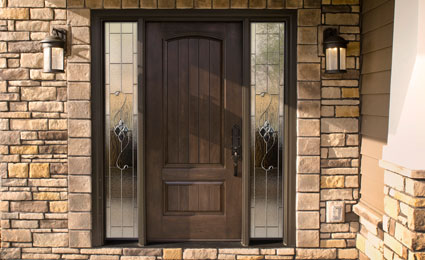 Embarq® Fiberglass
As the most energy-efficient entry door system in the U.S. market, Embarq is setting a higher standard. It's even engineered and produced by the only door company to win the ENERGY STAR Partner of the Year Award for Door Manufacturing. Together with its Quad Glass System, this innovative door provides a U-factor of 0.09—the lowest recorded heat conduction measurement for entry doors in the United States. Of course, all Embarq entry systems come with an ENERGY STAR® Certification and a 10-year finish warranty.*
The Embarq fiberglass entry door is every bit as beautiful as it is efficient. Of course, these doors are available in custom sizes and a number of styles, finishes, and glass options. Dreaming of a more intricate, custom glass design? Our experienced craftsmen are happy to help make your vision a reality.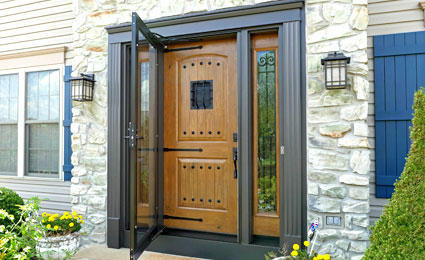 Signet® Fiberglass
The Signet fiberglass entry door in embossed woodgrain is an astonishingly accurate representation of real wood, even possessing its superior hardiness. In particular, its strength can be attributed to the robust hinge and strike stiles which are dovetailed to the top and bottom rails, forming an integrated frame. This feature ensures Signet's unmatched strength and durability. Also, all ProVia fiberglass doors utilize our exclusive DuraFuse™ Finishing System. This system features P3 Fusion and an industry-leading 10-year* finish warranty. Not to mention, nearly all Signet entry systems are ENERGY STAR® Certified.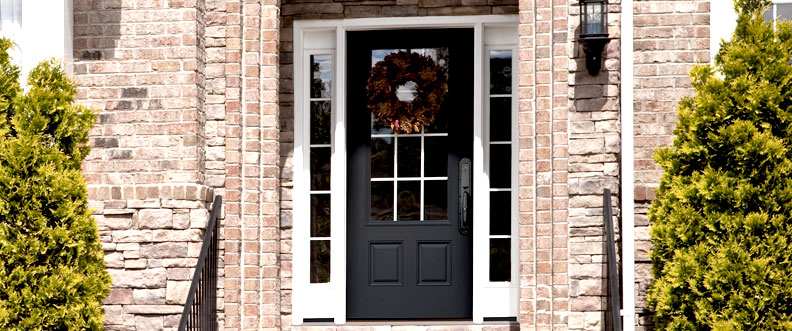 Heritage® Fiberglass
Heritage fiberglass doors showcase an enhanced woodgrain texture, improved definition embossing, and also a hardwood edge to prevent warping. With a durable finish that's guaranteed to last, the textured doors can be either artfully stained or painted. In addition, most Heritage fiberglass entry systems are ENERGY STAR® Certified and carry a 7-year finish warranty*.
High-Definition Embossing
ProVia doors also feature high-definition embossing for an authentic painted wood door appearance.
High-definition embossing appeal:
Provides traditional panel wood door style
Accentuates character with deep shadow lines
Adds depth and also artistic flair with rich contouring
Inspirations™ Art Glass
Looking for a true one-of-a-kind glass design? ProVia's Inspirations™ Art Glass has you covered. To achieve your unique design, highly-skilled craftsmen assemble decorative glass by precisely cutting, mitering, and soldering each component into custom-designed patterns. Art Glass is available in 11 series, primarily for sidelites as well as transoms. Western Products and ProVia will give you the tools to create a dramatic fiberglass entry door that complements and also enhances your home!
Decorative Glass
The growing trend of decorative glass for front doors creates dramatic entryways that increase natural light while still ensuring privacy. Your home will stand out with our entry door decorative glass and have distinctive added benefits:
Increased curb appeal
Increase in perceived home value
Increased natural lighting
Reflection of your personal style
Increased protection from severe weather with impact rated glass options
Western Produts' ProVia entry doors offer a wide range of door glass options that enable you to create the perfect entry to your home. Select from Decorative, Privacy, and Internal Blinds; Internal and External Grids; and ProVia's own unique line of artistically designed Inspirations™ Art Glass.  Many custom glass options are available with energy-efficient ComforTech™ Warm Edge Glazing Systems.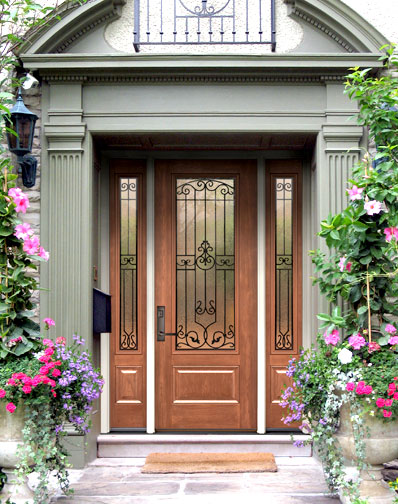 Get a Free Quote on a Fiberglass Entry Doors!
Since 1948, we've focused on providing quality products, professional installation, and exceptional service. This is why Western Products is now the most trusted name in windows, siding, roofing, cabinetry, doors, and more. Schedule your free estimate today! Call Western Products today at 800-743-3632.