ProVia® Fiberglass Entry Door Collections

Be True to Your Home's Style
Your home has an elegance all its own. In addition, every component works in harmony to create that style. Choosing a fiberglass entry door and glass that fits your needs, and also your style, is essential. Thankfully, Western Products makes it easy for you to make the right choice for your home. That is because When you combine your preferred door style, door glass, paint or stain finish, plus hardware and accessories, the end result is a customized entryway that reflects your personal flair.
---
Fiberglass Entry Doors
Renew your home's overall appearance and also increase its value by replacing your current entry door with one of our quality fiberglass entry doors.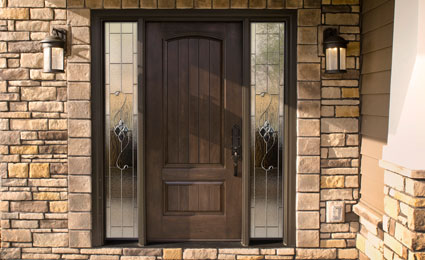 Embarq® Fiberglass
We set out on a journey to innovate entry doors and also expanded it into a complete philosophy of creating unrivaled efficiency in home building products. Now, we call this new way of thinking "EnVision." Consequently, we are proud to introduce its first creation: Embarq – the doorway of innovation and efficiency. And, all Embarq fiberglass entry systems are ENERGY STAR® Certified and also carry a 10-year finish warranty*.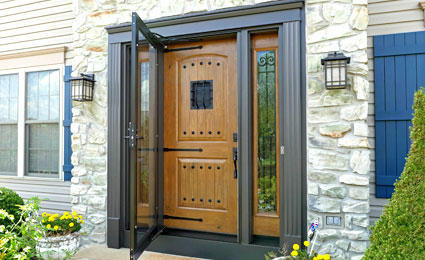 Signet® Fiberglass
The Signet door structure provides a superior hardiness to traditional fiberglass doors on the market. This is because of the robust hardwood stiles and rails dovetailed at each corner. In addition, all Signet Fiberglass doors exhibit our exclusive DuraFuse™ Finishing System. This also features P3 Fusion, which allows us to offer an industry-best 10-year* finish warranty. Finally, most Signet fiberglass entry systems are ENERGY STAR® Certified. Western Products' Signet Fiberglass doors are also available in Cherry, Mahogany, Oak, Fir, Knotty Alder and Smooth Series.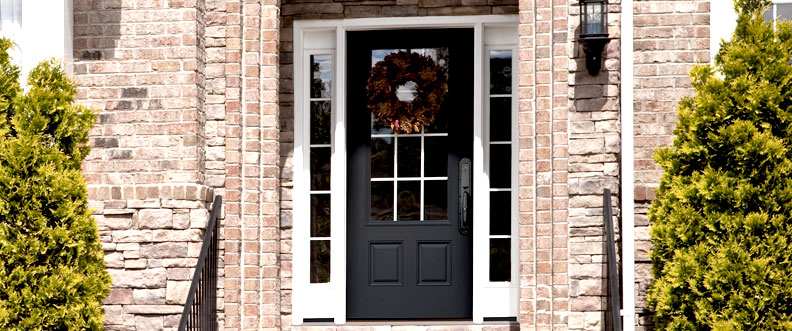 Heritage® Fiberglass
Heritage Fiberglass doors feature enhanced woodgrain texture, improved definition embossing and also a hardwood edge to prevent warping. In addition, most Heritage fiberglass entry systems are ENERGY STAR® Certified and carry a 7-year finish warranty*.
High-Definition Embossing
ProVia doors also feature high-definition embossing for an authentic painted wood door appearance.
High-definition embossing appeal:
Provides traditional panel wood door style
Accentuates character with deep shadow lines
Adds depth and also artistic flair with rich contouring
Decorative Glass
The growing trend of decorative glass for front doors creates dramatic entryways that increase curb appeal while still ensuring privacy. Your home will stand out with our entry door decorative glass and have distinctive added benefits:
Increased curb appeal
Increase in perceived home value
Increased natural lighting
Reflection of your personal style
Increased protection from severe weather with impact rated glass options
Western Produts' ProVia entry doors offer a wide range of door glass options that enable you to create the perfect entry to your home. Select from Decorative, Privacy, and Internal Blinds; Internal and External Grids; and ProVia's own unique line of artistically designed Inspirations™ Art Glass. Many custom glass options are available with energy-efficient ComforTech™ Warm Edge Glazing Systems.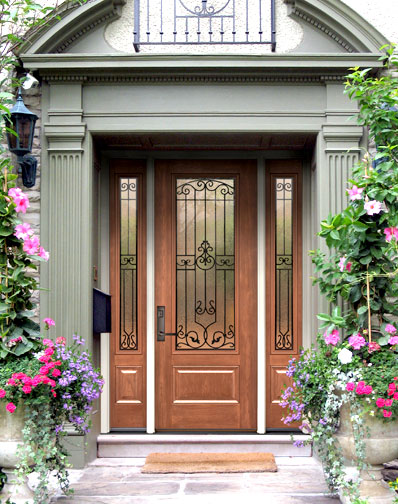 Get a Free Quote on Entry Doors in Fargo, ND
Discover how a commitment to quality products, professional installation and exceptional service has made Western Products the most trusted name in entry doors in Fargo and across the Upper Midwest for more than 70 years. Schedule a complimentary discussion to get a free estimate on entry doors in Fargo, ND, by calling Western Products today at 1-800-743-3632.