Seamless Siding from Western Products


United States Seamless® Siding & Western Products
While there are many siding options on the market, there is no competition when it comes to the seamless siding from United States Seamless® and Western Products! Our steel siding is constructed with superior strength and backed by an outstanding warranty. Combined with our seamless installation, Western Products takes the exterior remodeling industry to a whole new level!
As homeowners ourselves, we don't think anyone should have to compromise strength or beauty. Siding from other companies is constantly overlapped, meaning sections get pushed together every 12 feet or less. As a result, homeowners find a pattern of ugly splices and joints. In fact, the average home has more than 130 joints — all areas that can be vulnerable to the elements. With United States Seamless' steel siding, our custom cuts eliminate unsightly joints, no matter your home's dimensions. That's why we say, "We'll go to ANY length to beautify your home." We're even in the Guinness Book of World Records for the world's longest continuous piece of seamless steel siding, measuring 236 feet and 9 inches!
Because we use portable siding machines and heated trailers, we're happy to manage year-round installs. Choose any color, profile, or length, and we'll custom cut each piece, right at your home. You are going to love what Western Products' seamless siding can do for you!
Maintenance-Free Investment
Seamless steel siding from Western Products may be one of the wisest investments you'll ever make for your home. Because of steel's strength and our advanced paint technology, you'll never have to deal with the pain of seams, joints, fading, chipping, flaking, cracks, warping, or bubbles. No need to save and pay for another fix-up like priming, caulking, painting, staining, or patching. As a result, your siding will be virtually maintenance-free and retain its beautiful appearance, year after year.

Strongest Seamless Siding Warranty
At Western Products, our limited lifetime warranties* are the strongest in the industry. They will protect your home's exterior against defects, chalking, and fading, so you can be confident in your investment.
*Please see our aluminum and steel warranties for complete warranty duration, procedures, limitations, and exclusions.
Beauty. Durability. Sustainability. Seamless Siding.
Our superior steel is not only durable, it's also 100% recyclable! Because we combine our strength and seamless technology, you'll discover a maintenance-free finish that will stand the test of time. But, if you really like outdoor projects, feel free to grab a garden hose and give your siding a yearly rinse.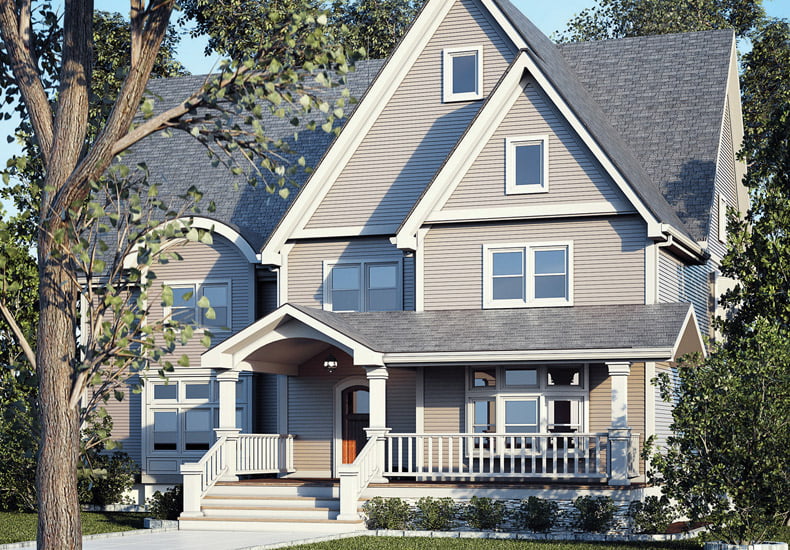 Regardless of hard rainfall or high humidity, Western Products' seamless siding substantially reduces moisture intrusion. With no seams or joints to penetrate, our siding stops structural deterioration before it can start. For added protection, we also use an approved underlayment, installed only by trained professionals.
America Sides with Steel
Our homes are not only a place of safety and security, they are our biggest investment and source of pride. At Western Products, our goal is to protect your investment for future generations. Just like you, we're homeowners who believe in making educated choices. Because of this, we place our trust in the most durable and sustainable materials in the industry. With a wide selection of siding profiles, colors, and accessories, it's no wonder we are the #1 choice in American-made, seamless steel siding and accessories!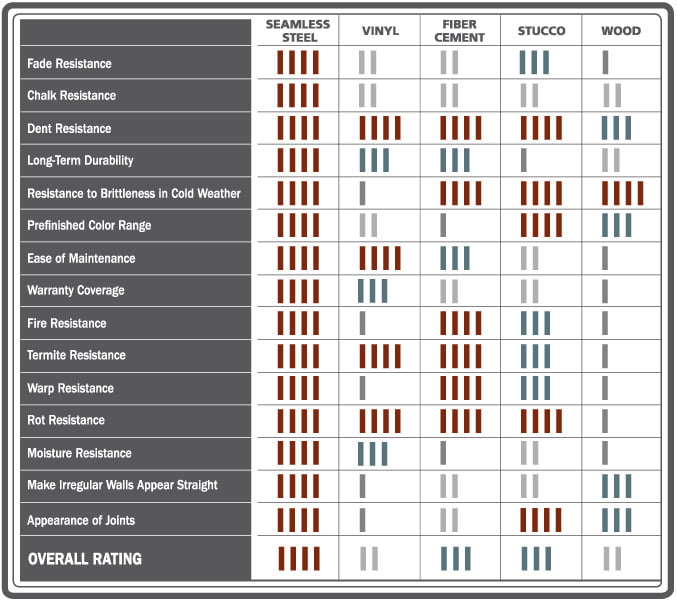 Get a Free Quote on Seamless Steel Siding
Western Products has a 75-year commitment to quality products, professional installation, and exceptional service. We are the most trusted name for seamless steel siding in Fargo, ND; Bismarck, ND; and the Upper Midwest! Schedule a complimentary discussion with a free estimate by calling Western Products today at 800-743-3632.