Western Products is North Dakota's Premier Source for Hunter Douglas® Window Treatments! 
Western Products has the industry's largest selection of horizontal and vertical blinds made of genuine hardwoods, aluminum, vinyl, or fabrics. In addition, these window treatments offer maximum visibility when opened, and optimal privacy when closed.
The Art of Window Dressing
An attractive window treatment and the right light can change everything, from your room to your mood. Hunter Douglas has mastered the art of stylish window dressings fused with engineering innovation. Undeniably, they are the leaders in light control, energy efficiency, operating systems, and motorization. Altogether, these features make your home smarter, your days easier, and every room more beautiful. View the Hunter Douglas' "The Art of Window Dressing" brochure.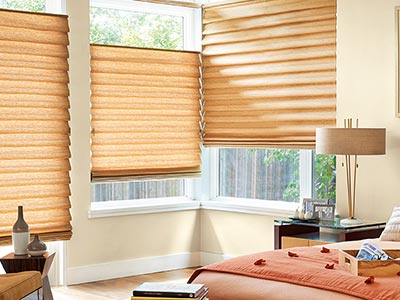 Sheers & Shadings
Sheers and shadings help you create beautiful effects with diffused natural light. For example, for wide windows and sliding doors, our privacy sheers come in an array of sheer and drapery-like fabrics for unlimited light-control and privacy options. With shadings, you can combine function with beauty. This is because the refined texture and subtle sheen of these window blinds create a captivating sunlit ambiance. Also, another great feature of shadings is the ability to rotate vanes for infinite degrees of light control and privacy. Finally, UV protection helps counter the harmful effects of sunlight.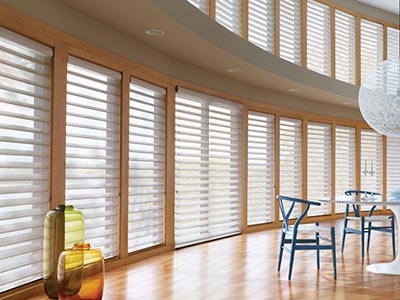 Roman Shades
The soft, sculpted folds of roman shades give an elegantly tailored and also modern look. In addition, the consistent folds and hidden rear cords keep windows uncluttered. Choose from different fold styles and sizes, as well as horizontal or vertical orientation. Lastly, we offer a luxurious selection of window blind fabrics and colors, from light filtering to room darkening.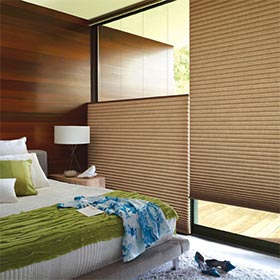 Honeycomb Shades
The honeycomb design offers energy savings in both winter and summer. We also offer these window shades in an impressive range of light-control fabrics, from sheer to opaque. Select from hundreds of colors and textures.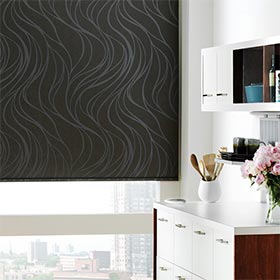 Roller Shades
These window shades are a clean, classic look that works for any room in your home. This is because our roller shades offer ease and simplicity. In addition, they are available in an impressive range of sturdy and distinctively beautiful fabrics.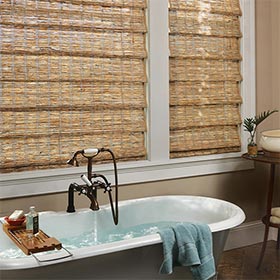 Woven Shades
Woven window shades give off a warm, natural look. This line of window coverings offers a contemporary selection of shade styles and design options, each with unique fibers and textures. The distinctive natural beauty complements any room.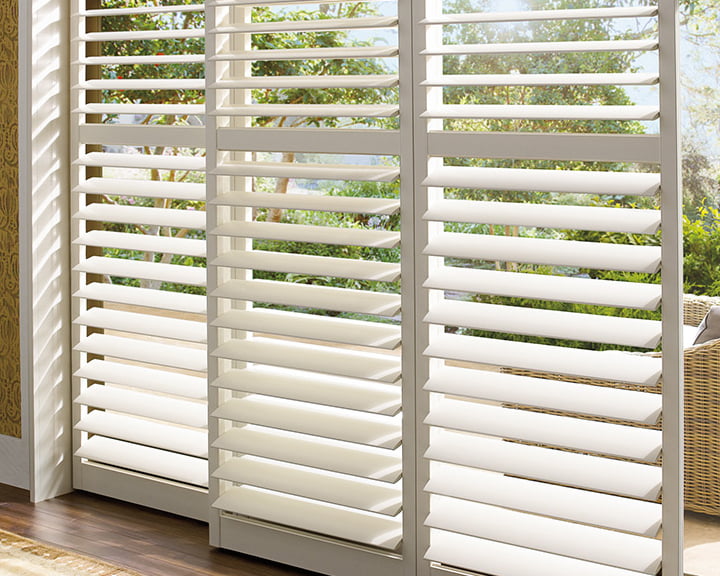 Shutters
You can achieve a classic Victorian look with long-lasting finishes and exceptional craftsmanship by decorating with shutters. These window treatments blend the beauty of real wood and advanced modern-day materials to create a stunning and durable window covering for any room.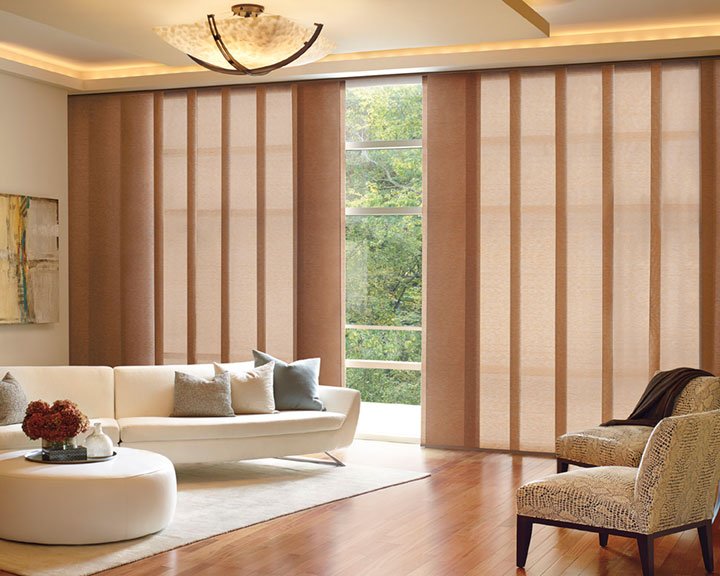 Vertical Blinds
Select from hundreds of materials, fabrics, and colors. Vertical blinds are ideal for wide windows, patio, and sliding glass doors. These window blinds offer a smooth, quiet performance.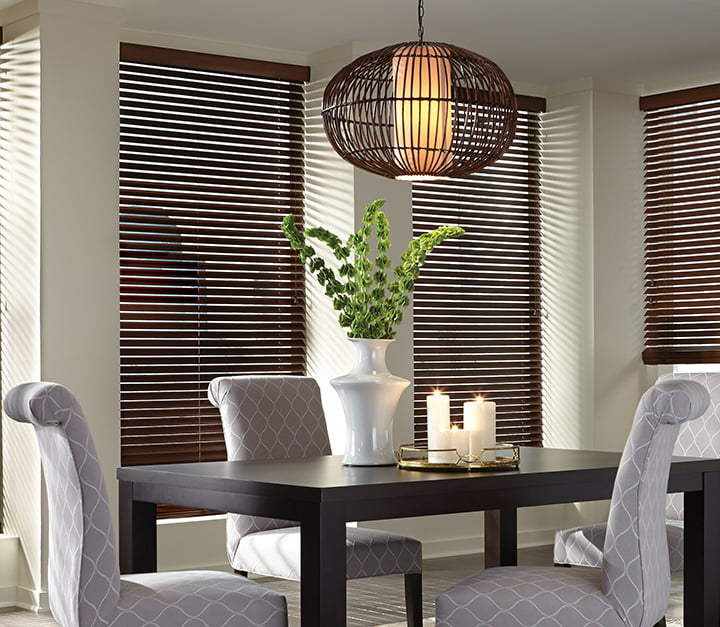 Horizontal Blinds
Constructed from the finest woods, alternative woods, and aluminum materials, these window treatments come in varying slat sizes, so you can find the right design for your home. A large selection of stylish colors, paint, and stain finishes are just a few of the reasons horizontal blinds are a top seller.
Advanced Operating Systems
Hunter Douglas window treatments operate easily by hand or motor, and also offer convenience, beauty, and energy efficiency. Many of their hand-operated window treatments feature a unique, retractable cord, while others are cordless. Simply push up with your hand to raise and pull down to lower. Overall, this lets you adjust your window treatments without unsightly, dangling external cords. Further, with many treatments, you can open the shade from the top or bottom, or settle somewhere in between. Your blinds and shades stay right where you put them!
In addition, Hunter Douglas' motorized systems can be programmed to optimize energy efficiency. Commands are as simple as the touch of a button via remote, wireless wall switch, or phone app. The best part? Nearly every blind is available with this integrated technology!
Child & Pet Safety
With cordless, manual, and motorized operating systems, as well as retractable lift cords, cord tensioners, and wand controls, Hunter Douglas offers many solutions to this concern. Our experts will introduce you to a wide array of innovative lifting system options for enhanced child and pet safety. Our window treatments are safe, attractive, and also easy to operate.
Energy Efficiency
Generally, up to 50% of your home's heating and cooling energy can be lost through your windows. Window blinds and specific window treatments can offer substantial energy savings – a difference you can see with lower heating and cooling costs.
Privacy & Light Control
Window treatments are available in a wide variety of product designs with fabrics and materials in a range of opacities. These can vary from sheer to opaque, offering multiple degrees of privacy and also light control options.
Made in the U.S.A.
Hunter Douglas designs and custom-assembles all of their blinds and shades in the United States. The longstanding commitment to quality and innovation means you'll enjoy window covering choices that you won't find anywhere else.
Lifetime Guarantee Warranty
We are a proud dealer of Hunter Douglas window fashions, which offer a lifetime guarantee.
4 Reasons Why Selecting Blinds Should Begin with our Design Expert
Choosing the right window treatment and solution can be very complex. Our experienced design professionals will work with you to find a solution that looks great and also provides the privacy and light control you need.
Better savings and promotions. Our Fargo-based design expert always has a pulse on the latest and greatest window treatment deals from Western Products, as well as Hunter Douglas. Working with our team will help you save time, effort, and also money.
Expert measuring. Once you've made your selection, our measuring and installation experts will come to your home to ensure a precise fit for your new window treatments.
Proper installation. When your window blinds are ordered, a professional installer from Western Products will work with you to ensure complete customer satisfaction. Our experienced window treatment installers are accustomed to unique situations, so they're ready to offer up unique solutions!
Get a Free Quote on Window Treatments
Discover how a commitment to quality products, professional installation, and exceptional service has made Western Products the most trusted name for window treatments in Fargo, ND; and the Upper Midwest for more than 75 years. Schedule a complimentary discussion with a free estimate today! Call Western Products today at 800-743-3632.