Protect Your Grand Entrance with Andersen® Storm Doors

Safeguard Your Home with Durable Andersen Storm Doors from Western Products!
If your home demands durability, enhanced function, and first-rate style, your home demands Andersen®. Andersen storm doors and screens are designed with ease of use in mind, so if there's an issue in the entryway, Western Products has a solution!
Strong Doors, Built to Last
Western Products can install four signature Andersen styles, along with endless customization options. Unsure of your design or desired function? No problem! Whether you're pondering an all-aluminum or wood core, Fullview or 1/2 Light Panel, our experts are here to walk you over the threshold!
Andersen's Fullview storm door lets in the maximum amount of light and ventilation while beautifully framing your entryway. Thanks to a thick aluminum frame, moisture-resistant wood core, and premium, double-layer weatherstrip, this storm door can withstand even the harshest elements.
Define Your Style
Andersen offers four storm door styles and scores of series, color, and hardware combinations for each. Whether you prioritize weather protection, natural lighting, ventilation, or any combination of the three, Western Products can help design an ideal storm door that meets (or exceeds) your needs!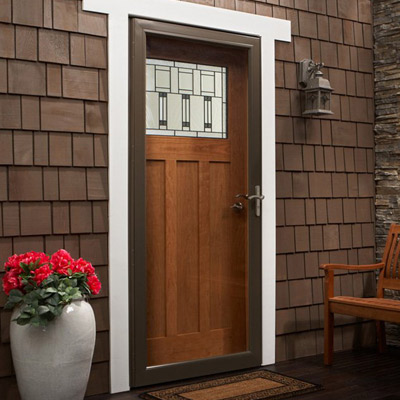 Fullview Interchangeable 
Andersen's Interchangeable Storm Doors optimize natural light while showcasing a beautiful frame. This door is offered in three series, eight colors, three hardware styles, and also many decorative glass options!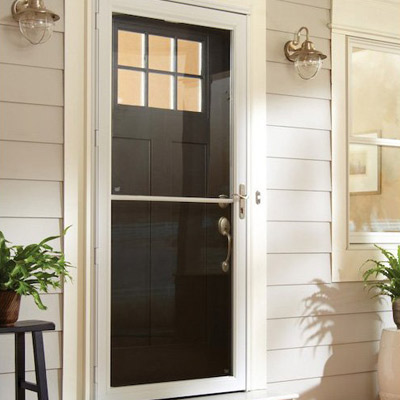 Fullview + Luminaire® Retractable Screen Door 
This storm door offers both optimal natural lighting and increased ventilation without glass panel removal. Andersen's Fullview Retractable Screen door comes in two series, eight colors, three hardware styles, and also decorative glass options. If you need a more advanced screen option, try Luminaire's SlideAway® insect screen system that's designed to disappear when not in use!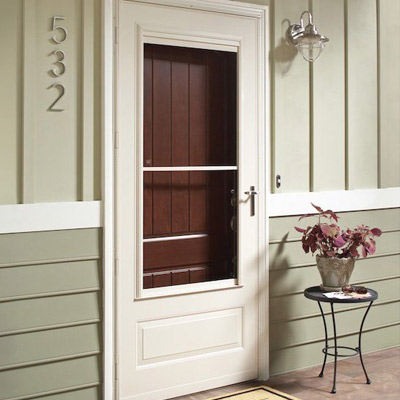 ¾ Light Panel Ventilating 
The ¾ Light Panel Ventilating Storm Door offers a classic look, easy-to-clean design, and great value! With Andersen's signature durability, this storm door has a lot to offer. It is available in three series, six colors, two hardware styles, and also options for colonial grilling.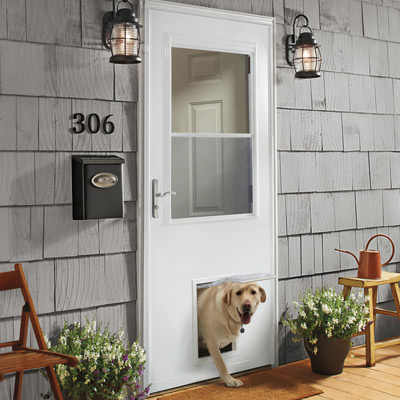 ½ Light Panel Ventilating 
Western Products provides Andersen Corporation's® ½ Light Panel Ventilating Storm Door for a classic look with extra-solid lower paneling. For ease of use, this style can be custom-designed to include a built-in pet door. It also comes in three series, six colors, two hardware styles, and an option for colonial grilling.
Get a Free Quote on Andersen Storm Doors Installation!
Since 1948, we've focused on providing quality products, professional installation, and exceptional service. This is how Western Products became the Midwest's most trusted name in siding, windows, gutters, roofing, doors, and more! Schedule your free estimate today! Call Western Products today at 800-743-3632.