Nichiha Fiber Cement Siding

Nichiha Fiber Cement Siding: Architecture & Engineering
With ever-expanding lines, Nichiha Fiber Cement Siding offers uniquely beautiful finishes and rich textures. Because of its versatility, Nichiha is a perfect solution for both modern architecture and timeless remodels. Thankfully, with their great engineering and selections, the possibilities are endless!
Engineering Ease
It's no wonder Nichiha is the highest-rated product of its kind! Your home wrapped in this siding is a source of pride. And, it's certain to stay that way with less fuss and maintenance. Every product made comes off the line with three protective coatings: two coats of primer, and an anti-efflorescence coating. This prevents chalky residue from appearing. The result is a product that holds paint better and looks great longer.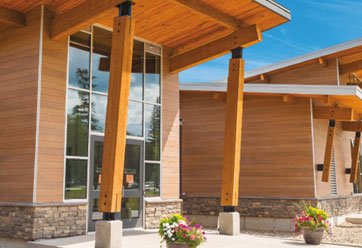 Dramatic Visuals
Nichiha fiber cement siding brings the drama home with half-inch thick construction, gorgeous visuals, and deep shadow lines. Because it's stamped with controlled pressure, you'll see deeper grooves and more shadows. If you're ready to make a bold statement, we're ready to show you Nichiha's array of options!
Fiber Cement Strong
Since Nichiha is backed by the power of fiber cement, it's the ultimate low-maintenance solution. Fiber cement construction stands up to whatever Mother Nature has to offer. As a result of this, you do not have to worry about rot, pests, or warping. We can guarantee that protection better than anyone else in the industry. Nichiha's fiber cement also offers modern innovation with timeless visual appeal.
Great Selection
With strong construction, refined elegance, and classic, head-turning beauty, Nichiha by Western Products is sure to elevate your curb appeal. We offer endless options, colors, textures, and styles. From vintage wood to shakes or brick, you can visualize a solid siding option, or mix and match to create a look all its own!
Get a Free Quote on Nichiha Fiber Cement Siding
Since 1948, our focus has been on quality products, professional installation, and exceptional service. This is why Western Products is the most trusted name for Nichiha fiber cement siding in the Upper Midwest. Schedule a complimentary discussion with a free estimate in Fargo, ND by calling Western Products today at 1-800-743-3632, or simply fill out our convenient request form.