Enhanced Triple Pane Windows

Feel the Comfort Difference with Triple Pane Replacement Windows from Western Products!
Enhanced Triple Pane windows are a game-changer in Western Products' search for cost-saving, energy-efficient home products. This type of innovation is one of many reasons why we continue to install replacement windows from Renewal by Andersen®. In their own ongoing effort to combat energy loss, these may be one of their most impactful windows to date—Enhanced Triple Pane glass and Enhanced Triple Pane with SmartSun™ glass! In fact, the new Enhanced Triple Pane glass and Enhanced Triple Pane with SmartSun™ glass have been designated as one of the Most Efficient ENERGY STAR® certified products of 2021!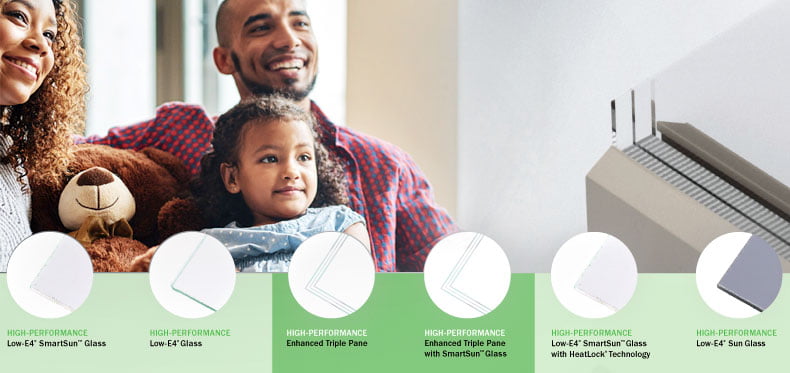 More Glass, Same Sleek Design
How do you add a third pane of glass without adding bulk? Working with an accomplished team of scientists and engineers, Renewal by Andersen utilized emerging technology to achieve this feat. The process required a strategic fusion of new-age glass, spatially appropriate gas fills, and thermally efficient spacers. As a result, they successfully reduced the conduction of energy to provide an impressive and much improved U-Factor value and insulation performance. Altogether, this allowed their triple pane windows to maintain a nearly equal weight to their dual pane options.
Enhanced Comfort
Lawrence Berkeley National Laboratory played a key role in helping Renewal by Andersen accomplish this task. Berkeley Lab is a leader in energy efficiency research that is supported by the U.S. Department of Energy. Overall, they relied on known scientific methods to simulate comfort in a typical living space. When compared to a dual pane window, the Triple Pane glass showed a more uniform room temperature with far less energy waste.
A more uniform room temperature. A more comfortable home with Enhanced Triple Pane Glass.

* Actual experience may vary based on variables of your home, as well as other conditions. Modeled with Renewal by Andersen double-hung windows with Enhanced Triple Pane glass with krypton glass blend fill and default performance values of a typical clear air filled dual pane vinyl windows in a room with 4'x5' and 3'x5' windows. Scale of -3 to 5, maximum combined radiant and also downdraft Predicted Percentage of Dissatisfied (PPD) difference from threshold. Values greater than 0 are uncomfortable. Details can be found at: renewalbyandersen.com/ETP-data.
Experience Renewal by Andersen
Together with over a million satisfied homeowners, you'll see why Renewal by Andersen® was their top choice for quality, style, and efficiency. Explore our selection of durable replacement windows and doors. Choose from an array of custom-cut patio doors and window styles such as awning, bay and bow, casement, double-hung, picture, sliding, and many more!
Schedule Your Free Consultation for Triple Pane Replacement Windows!
Western Products wants to help increase your home's overall efficiency. We're proud to be the area's #1 source for Renewal by Andersen replacement windows in Fargo, ND; Bismarck, ND; and the Upper Midwest for more than 75 years. Call Western Products today at 800-743-3632 or fill out our convenient online request form.