ProVia® Entry and Storm Doors

Western Products Offers Style, Performance and Protection with ProVia Entry Doors.
ProVia has been crafting the finest entry, storm and patio doors for more than 35 years. In addition, they are committed to making doors the professional way: individually customized for your home to the highest standards of durability, security and energy efficiency in the residential market.
Fiberglass and Steel Entry Doors
Homeowners who buy quality, buy ProVia doors. Western Products offers four unique lines of ProVia's fiberglass and steel professional-class entry doors. These doors meet the highest industry standards of usability, without sacrificing aesthetic beauty. In addition, we offer them in custom sizes and finishes. Because of this, Western Products ensures you can personalize any door the way you want it. A stylish front door from us will increase your home's curb appeal and also deliver a marked increase in:
Comfort
Energy efficiency
Performance
Renew your home's overall appearance and also increase its value by replacing your current entry door with one of our quality fiberglass or steel entry doors. Let Western Products help you feel good about the way you see your home.
Fiberglass Entry Doors
Our new and also cutting-edge Embarq series of fiberglass doors pushes the envelope in sustainability. This is because it is the most energy-efficient door available on the U.S. market. In addition, our signature Signet fiberglass entry doors deliver the most visually accurate representation of natural wood grain. We offer door style series in Cherry, Mahogany, Fir and Oak. In addition, there are seven different stain colors in each series. Finally, Western Products' Heritage fiberglass doors offer the classic look of true wood grain with the durability and security of fiberglass.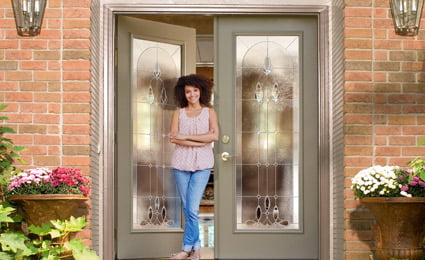 Steel Entry Doors
The benefits of Western Products' steel door selection add up to a professional-class product. Whether you select Legacy Woodgrain, Textured Steel or Smooth Steel, our entry systems will provide an elegant, durable and also energy efficient addition to any home. In addition, our Legacy Steel exterior doors with 20-gauge steel provide unparalleled protection.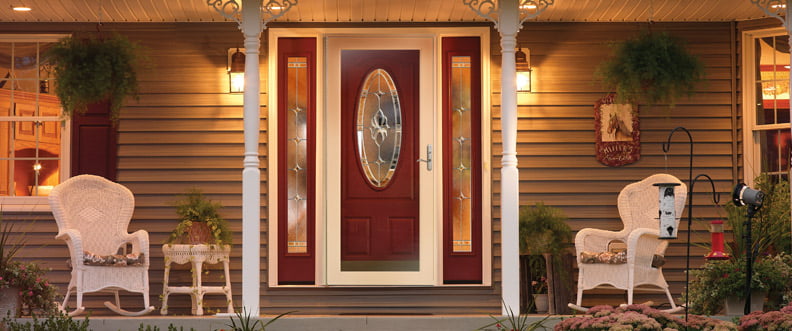 Custom Storm and Screen Doors
We offer over 50 models of aluminum storm doors and a plethora of glass options among five different brands. Consequently, Western Products offers the highest level of customization to provide you a storm door of any provider in your area. In summary, our doors will appeal to the aesthetic and functional needs of your personal home.
Our Spectrum™ Storm Doors feature retractable screens at the top and base for more venting options. The Decorator™ Series offers stylish designs for instant curb appeal. The Deluxe™ Series storm doors provide multiple options for full screens or top screens. The Duraguard™ Series storm doors are ideal for keeping children and also pets safely inside, with heavy-duty, non-removable stainless-steel screens. Finally, the Superview™ Series provides superb style and value.
Western Product's offering of ProVia aluminum storm doors are available in an array of colors. In addition, the Spectrum, Decorator and Deluxe series even feature options for door glass, including our exclusive Inspirations™ Art Glass.
High-Definition Embossing
ProVia doors feature high-definition embossing for an authentic painted wood door appearance.
High-definition embossing appeal:
Provides traditional panel wood door style
Accentuates character with deep shadow lines
Adds depth and artistic flair with rich contouring
Decorative Glass
The growing trend of decorative glass for front doors creates dramatic entryways. They will increase curb appeal while also still ensuring privacy. Because of this, your home will stand out with our entry door decorative glass and have distinct added benefits:
Increased curb appeal
Increase in perceived home value
Increased natural lighting
Reflection of your personal style
Increased protection from severe weather with impact rated glass options
ProVia offers a wide range of door glass options. These will enable you to create the perfect entry to your home. Select from Decorative, Privacy, and Internal Blinds; Internal and External Grids; and also ProVia's own unique line of artistically designed Inspirations™ Art Glass. In addition, many custom glass options are available with energy-efficient ComforTech™ Warm Edge Glazing Systems.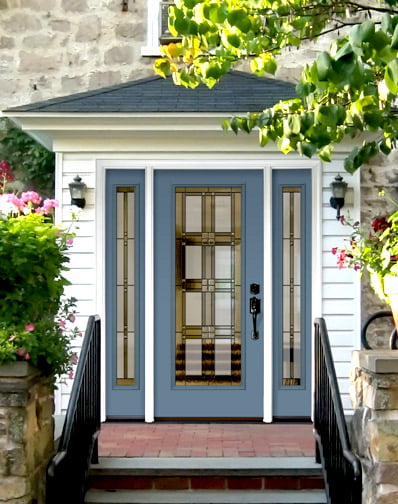 Add Value to Your Home
Installing a new, attractive front door is a cost-effective investment that can have a major impact on a home's curb appeal. An attractive front entrance can boost perceived market value by as much as five-times the cost of the door itself!
Purchasing a garage or front entry door from Western Products ensures that your home has the most effective fiberglass or steel door on the market, backed by a full system warranty. Our entry door components are designed to provide lasting performance, security and energy efficiency.
Protect Your Home
Each storm and front entry door from Western Products protects your home from the damaging effects of heavy winds, rain and severe weather. Our impact rated doors maximize the seal between the door and the frame to keep out the damaging effects of the elements while still increasing energy efficiency and beauty.
Energy-Efficient Exterior Doors Save Money and Enhance Comfort
ProVia doors are built to be energy efficient, beautiful and secure. Our new construction replacement exterior doors keep you cozy in the winter and cool in the summer. Every one of our steel or fiberglass doors are foam-filled with thermally efficient material and contain the best weather seals on the market. Our ComforTech™ glazing packages even provide outstanding energy efficiency to doors with glass (available in clear, decorative glass and Inspirations Art Glass).
Get a Free Quote on Entry Doors in Fargo, ND
Discover how a commitment to quality products, professional installation and exceptional service has made Western Products the most trusted name in entry doors in Fargo and across the Upper Midwest for more than 70 years. Schedule a complimentary discussion to get a free estimate on entry doors in Fargo, ND, by calling Western Products today at 1-800-743-3632.