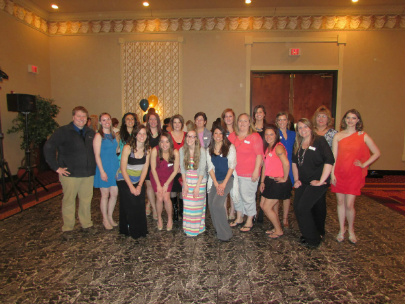 Western Products Enjoys an AuSome Evening
Western Products, Inc. Sponsors ND Autism Center's AuSome Evening Gala 2014
An AuSome time was had by all at the ND Autism Center's AuSome Evening Gala. Western Products, a local and regional home improvement company was a Bronze Sponsor of the event that included a social hour, games, dinner, live auction, dance, and guest speaker Miss Montana, Alexis Wineman.
Alexis believes, "if just one person encounters a child who is overstimulated without staring, if one teenager invites an "outcast" to lunch or just smiles at him or her, or if one employer gives a job to someone who might not be able to look the interviewer in the eye," then her time as Miss Montana is successful. Alexis, who successfully navigates her own struggle with an autism spectrum disorder, is passionate in the same ways as the ND Autism Center. The Center's mission is "To help children affected by autism spectrum disorders (ASD) to reach their full potential through excellence in care, instruction and support."
Raising money to support local causes is a cornerstone of Western Products and Affiliated Companies' culture because it is imperative that businesses give back to the communities that support them. Past fundraisers have benefited local causes like ND Autism Center.
About Western Products and Affiliated Companies
Western Products was established in 1948 in Fargo, North Dakota to provide innovative home exterior improvements with a strong commitment to quality and customer service. Headquartered in Fargo, North Dakota, Western Products has locations in Bismarck, North Dakota and St. Cloud, Minnesota. Beginning in home improvement, the company has grown to include affiliate companies in the areas of franchising, manufacturing, development and property management, commercial real estate, and other areas related to home improvement.
Our home improvement experts are committed to helping turn your home renovation dreams into realities! Stop by one of our showroom locations in either Fargo or Bismarck, or give us a call at 800-743-3632 to set up a free in-home consultation or a virtual consultation. We can talk to you no matter where you are through our virtual consultation service.
Share with your friends | Stay tuned for more blog posts