Energy-Efficient Siding by Western Products

A Commitment to Earth-Friendly Practices + Energy-Efficient Siding
At Western Products, we are committed to respecting your home and the environment. Coupled with modern innovation, we're able to incorporate eco-friendly practices throughout every aspect of our company. In fact, partners like United States Seamless rely solely on energy-efficient siding materials like steel, which is 100% recyclable. To clarify, no harmful solvents are released into the environment to maintain it. As a result, steel siding earns points in leading green building certification programs.
Eco-friendly exteriors have the power to reduce your energy costs and make your home a safer place to live and breathe. In other words, Western Products and United States Seamless® offer energy-efficient siding and a whole lot more:
Greater resistance to wind, hail damage, and wind-driven rain
ENERGY STAR® compliant finishes
Manufactured using 100% recyclable materials
Reduces moisture intrusion
Long-lasting, durable options
Easy to clean and virtually maintenance-free
Freedom from Maintenance
Our exterior paint finish will give your home an easy-to-clean, stain-resistant finish. To clarify, a simple rinse with a garden hose is all you will need to keep your siding looking brand new all year long. In fact, steel-constructed, energy-efficient siding doesn't require any painting, staining, or caulking!
Industry-Leading Paint Finish Technology
If you've noticed your neighbor's house is fading or chalking, it's likely due to polyesters, hybrid polyesters, and PVC organic compounds used by other siding companies. Thanks to a 70% PVDF paint finish technology and durable ceramic compounds, your United States Seamless siding is ready to deflect potential damage. This means an energy-efficient siding with no fading, chalking, warping, or cracking!
Energy-Efficient Siding = Eco-Friendly Exteriors
Western Products believes in a "whole house" approach focused on enhancements that will save you money and protect the environment. As a matter of fact, our exterior coatings are ENERGY STAR compliant and enhanced with Cool Paint Technology™ (CPT), a concept originally created for NASA's space shuttle program. CPT uses infrared reflective pigments to efficiently cool the surface. This means, in exteriors, CPT can improve the energy efficiency of homes by reflecting both solar and thermal radiation.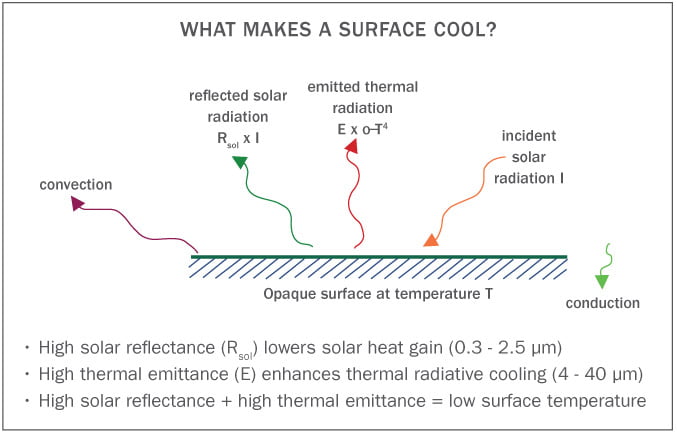 Heat Deflection: United States Seamless exterior collections receive a Very Good (4) to Excellent (5) rating. In contrast, PVC-coated material from other companies absorbs heat at a poor (0-1) rating.
Get a Free Quote on Seamless, Energy-Efficient Siding!
Learn more about our commitment to eco-friendly practices that can benefit your home and the planet! Discover why Western Products is the most trusted name for seamless steel siding in Fargo, ND; Bismarck, ND; and the Upper Midwest! Schedule a complimentary discussion today for your free estimate. Or, call Western Products at 800-743-3632.