Bring Beauty to Your Home

Siding or re-siding your home is never a simple decision. But it's ultimately a very rewarding one. It doesn't matter whether you do it to increase the value of your home, to complement your new windows or simply to reduce exterior maintenance. Treated engineered wood siding from LP SmartSide by Western Products can completely transform your home's appearance. With its realistic cedar-grain texture and striking wood-like appearance, LP SmartSide treated engineered wood cladding stands apart from all other choices. It's an easy way to bring out the unique charm and beauty of your home.
Built to Last
Your home is the place where you experience some of your favorite moments and memories. We understand that you want to keep it looking beautiful for as long as possible.
Western Products offers the perfect solution with LP SmartSide treated engineered wood siding. It's designed to hold up to tough weather elements as well as withstand impacts from everyday bumps.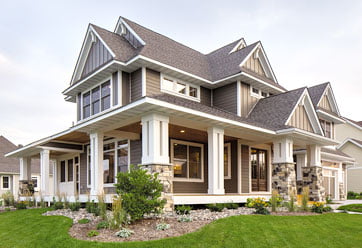 Selecting the Right Siding for Your Home
Realistic deep cedar-grain textures give this siding a unique, natural look. It's available in a wide selection of profiles and various lengths of up to 16 feet, giving you the option to have fewer visible seams. You also can choose from our color palette to mix and match your existing pieces, such as brick, stone or shingles. You select the color or colors and leave the rest to us! Prefinished siding offers many benefits: it ensures uniform paint coverage with fewer blemishes, eliminates the risk of painting in unpredictable weather and gives you the option of choosing distinctive two-tone finishes. Our dedicated team at Western Products will deliver instant results when installing your prefinished siding.
Get a Free Quote on LP SmartSide Siding in Fargo, ND
Discover how a commitment to quality products, professional installation and exceptional service has made Western Products the most trusted name for your siding needs in the Upper Midwest since 1948. We make it easy to restore, protect and preserve your home for a lifetime. Schedule a complimentary discussion with a free estimate in Fargo, ND by calling Western Products today at 1-800-743-3632 or simply fill out our convenient request form.