LP® SmartSide®: Bringing Beauty Home
Whether you're considering stone, steel, or LP SmartSide, remodeling your home's exterior is rarely an easy decision. But, with LP SmartSide engineered wood siding from Western Products, it can be a rewarding one! As a matter of fact, an exterior remodel can quickly increase the value of your home. In addition, a remodel with LP SmartSide can substantially reduce exterior maintenance, while enhancing curb appeal.
LP SmartSide is Treated to Transform
Engineered wood from LP SmartSide can completely transform your home's appearance. It's a premium choice if you're on the search for a realistic cedar-grain texture or striking wood-like appearance. There are many signature looks to choose from, including lap siding, shakes, panel, and vertical. In fact, LP features 16 versatile, pre-finished colors with an ever-expanding collection to browse. These collections remain durable and beautiful for years to come!
Built to Last
Our goal is to make sure your home lasts from generation to generation. For this reason, Western Products only chooses products that can enhance your home with beauty, durability, and strength. Certainly, creating a home with minimal maintenance is important. Not to mention, you'll be able to spend your time enjoying your home, rather than working on it! Constructed with engineered wood strand technology, LP SmartSide siding goes even further. Through a SmartGuard® manufacturing process, strands are treated with carefully formulated resins, waxes, and zinc borat. Additionally, the process ends with an overlay that offers complete protection against the elements. In the end, you'll have superior protection against hail, wind, moisture, fungal decay, and termites.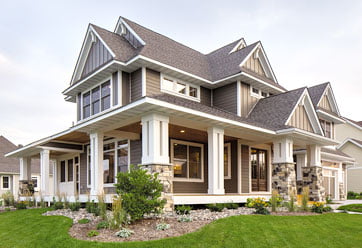 Selecting the Right LP SmartSide Siding for Your Home
Realistic deep cedar-grain textures give this siding a unique, natural look. What's more, it's available in a wide selection of profiles and lengths of up to 16 feet for fewer visible seams. Choose from our color palette to mix and match your home's existing features, such as brick, stone, or shingles. It's simple—you select the color or colors and leave the rest to us!
Without a doubt, prefinished siding offers many benefits. First, it ensures uniform paint coverage with fewer blemishes. Next, it eliminates the risk of painting in unpredictable weather conditions. And finally, it gives you the option of choosing one of LP's distinctive two-tone finishes. Best of all, our dedicated team at Western Products will deliver instant results with expert installation on your prefinished siding.
Get a Free Quote on LP SmartSide Siding!
Western Products is your local source for LP SmartSide. Discover why Western Products is the most trusted name for seamless steel siding in Fargo, ND; Bismarck, ND; and the Upper Midwest! Schedule a complimentary discussion for your free estimate. Or, call Western Products today at 800-743-3632.