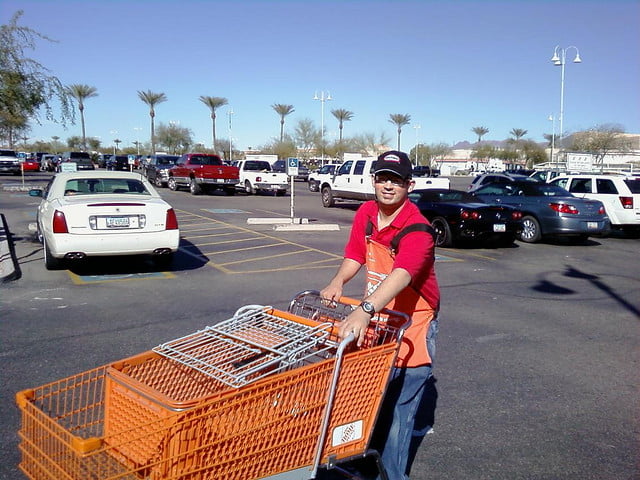 Replacement window and patio doors are set sizes at a big box store
When you work with a big box like Home Depot, the replacement windows and patio doors are available in predetermined height and widths. When you order your windows on the big box website, you'll find yourself selecting the window size from a dropdown. Working with a Renewal by Andersen or other affiliate means that your windows will exactly fit your current opening. During remodels and restorations, you can save a lot of time and hassle by purchasing windows that fit your home exactly rather than forcing your home to fit the window or door.
Choosing the way your door or window opens
There you are in the store looking at the most beautiful, energy efficient patio door and you're ready to buy it. That's when you realize, it opens from the left and that won't work. The only way to guarantee a patio door or window will open exactly the way you need it to open is to avoid big box stores. Working with a dealer ensures your specific situation will be considered.
Limited choices for details like locking options
Patio doors have increased options for security like foot bolts developed by Andersen windows to protect your family. Also, there's possibly an upcharge for something like a foot bolt that are not part of the big box package. The Renewal by Andersen affiliates have more options available so that you don't have to settle for something that isn't what you want or need. There are more hardware options, color selections, and functionality through an official Andersen dealer than a big box store.
The glass is standard glass which is good but…
Renewal by Andersen Windows have a great performance grade for their glass. No matter if you buy your replacement windows at a place like Home Depot or directly from a Renewal by Andersen dealer, you're getting high quality, energy efficient windows. What you won't get from a big box is options like SmartSun Glass or other options that would be considered a special order.
Installation superiority and expertise
Renewal by Andersen dealers have dedicated teams of installers who specialized in installing windows and patio doors from Andersen Windows. Like Western Products, installers are trained by corporate Renewal by Andersen to ensure superior outcomes. Big box stores work with a list of contractor that may or may not have experience with replacement windows and patio doors made by Andersen.
Your home is worthy of all the choices available and expert installation. It will save you time, money, and difficulties to work with a dealer who can order the exact windows and doors that fit your home and not only work the way you need it to but also looks the way you want them to. Andersen Windows make excellent products, no matter where you buy them.
If you're looking for options, choices, and excellent installation, choose a Renewal by Andersen dealer like Western Products. Our in-home consultations are always free and we're happy to share our knowledge about your options for Replacement Windows and Patio Doors.
Our home improvement experts are committed to helping turn your home renovation dreams into realities! Stop by one of our showroom locations in either Fargo or Bismarck, or give us a call at 800-743-3632 to set up a free in-home consultation or a virtual consultation. We can talk to you no matter where you are through our virtual consultation service.
Share with your friends | Stay tuned for more blog posts