Frequently, homeowners think that in order to have a fashionable and appealing kitchen, they need to sacrifice function. And, even though the need for more space is often a big motivation for kitchen remodeling, a new floor plan can often resolve most issues. The need for fashion and function, is what drove this new kitchen design into existence. As this traditional kitchen style shows, both looks and utility can work together to create a dream kitchen. Read our top three tips to enhance your kitchen for both fashion and functionality!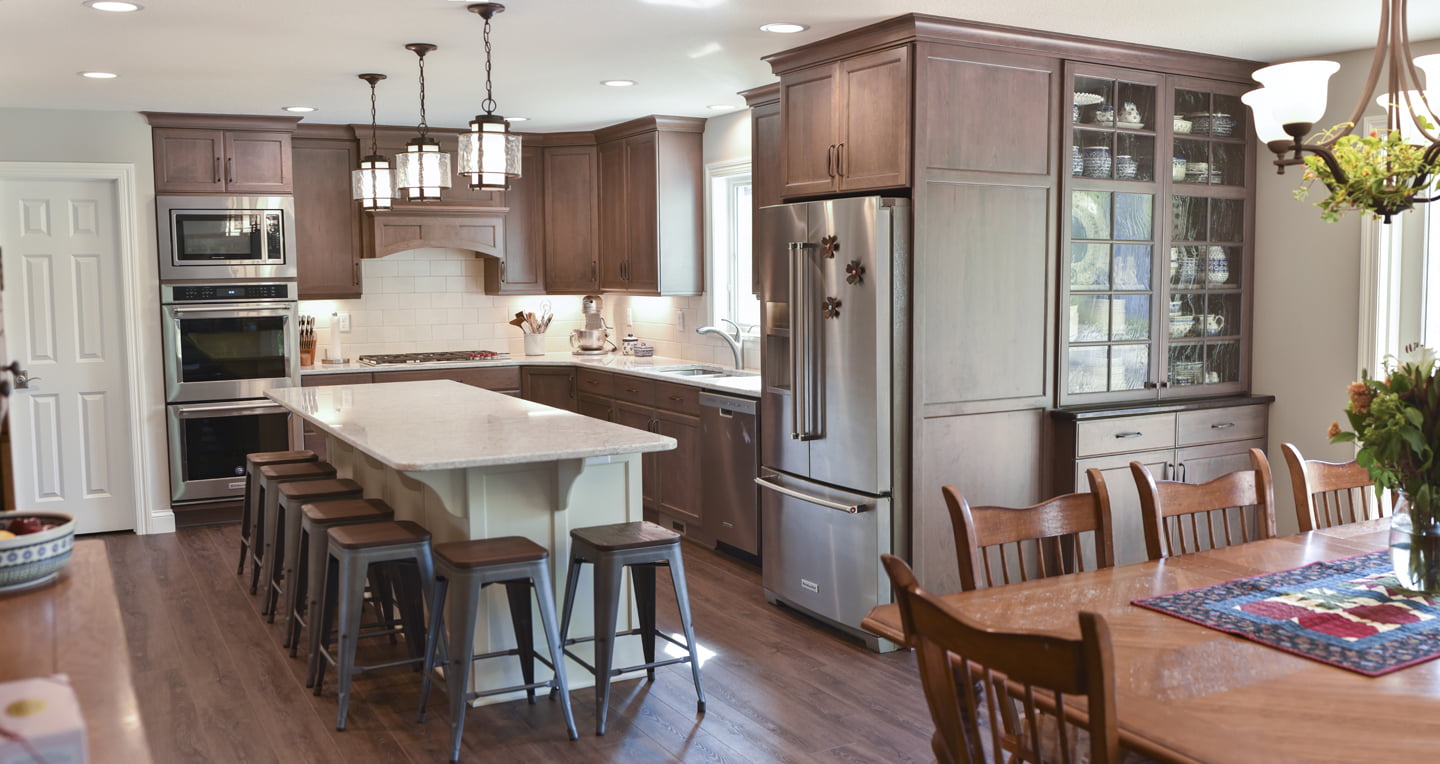 #1 – Rearrange – Adding Additional Space
Before the redesign, this kitchen had a lot of use by the owners. With many kids in and out of the house, the layout was no longer functional, though it desperately needed to be. In the early stages of designing, more space was necessary for the growing family. With some rearranging by our Design Team, the pantry was relocated to provide additional space, and the designing process began. With only a few key design choices our Design Team was able to create a new, beautiful open concept kitchen. Using these tips, you'll be prepared to make plans and solve problems on your next kitchen redesign. We're here to help your kitchen reach its fullest potential!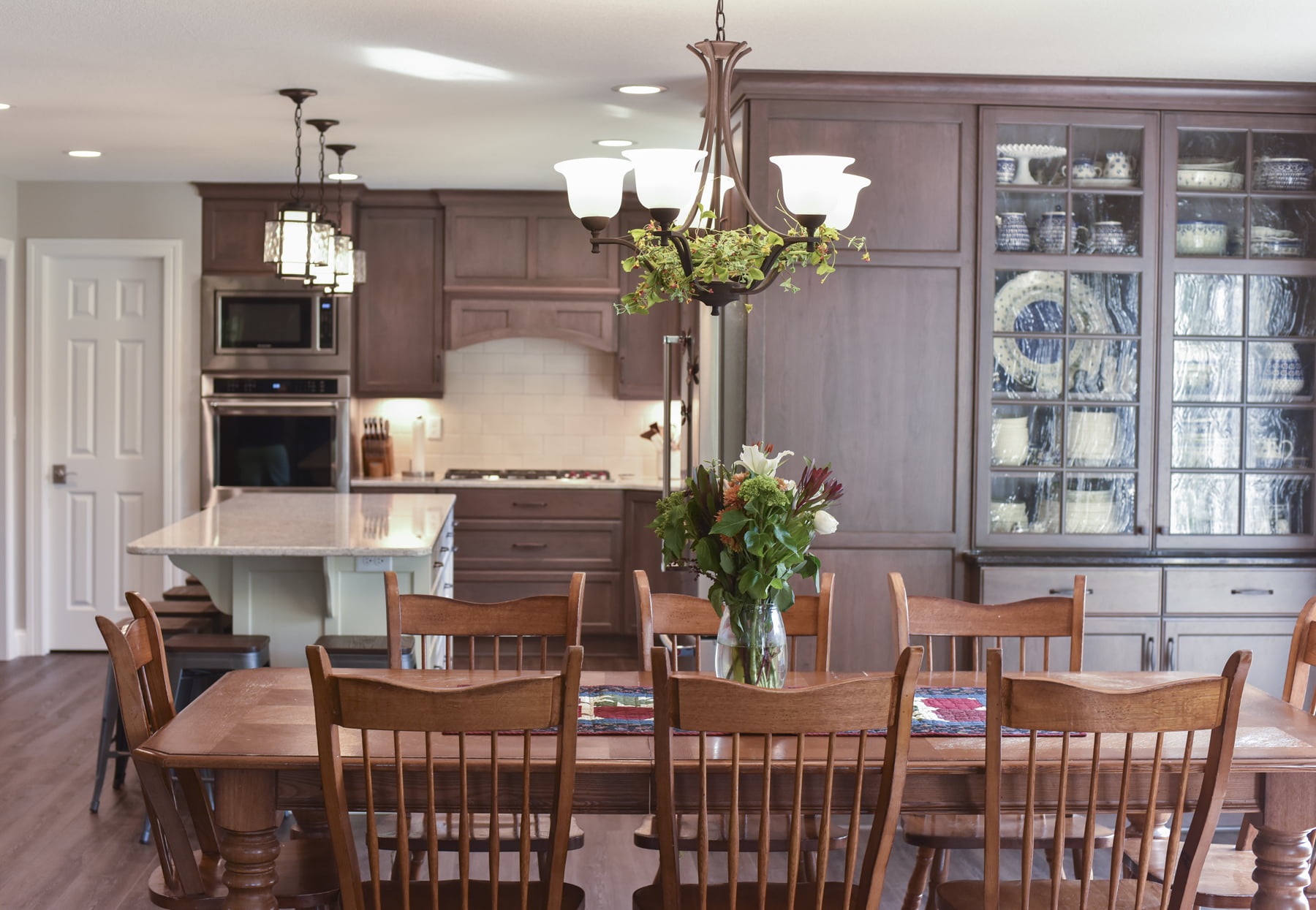 #2 – Re-purposing – Creating Dual Functional Space
The next kitchen design tip is that custom islands can serve a dual purpose. For example, instead of shrinking the space with a dining table, the island in this kitchen serves as an informal dining area while also allowing ample storage space for the family. The Aria, a quartz countertop by Viatera®, provides durability and elegance with its intricate marbling and Bisque painting. To complete the look, the countertop is finished in a Pewter brushing.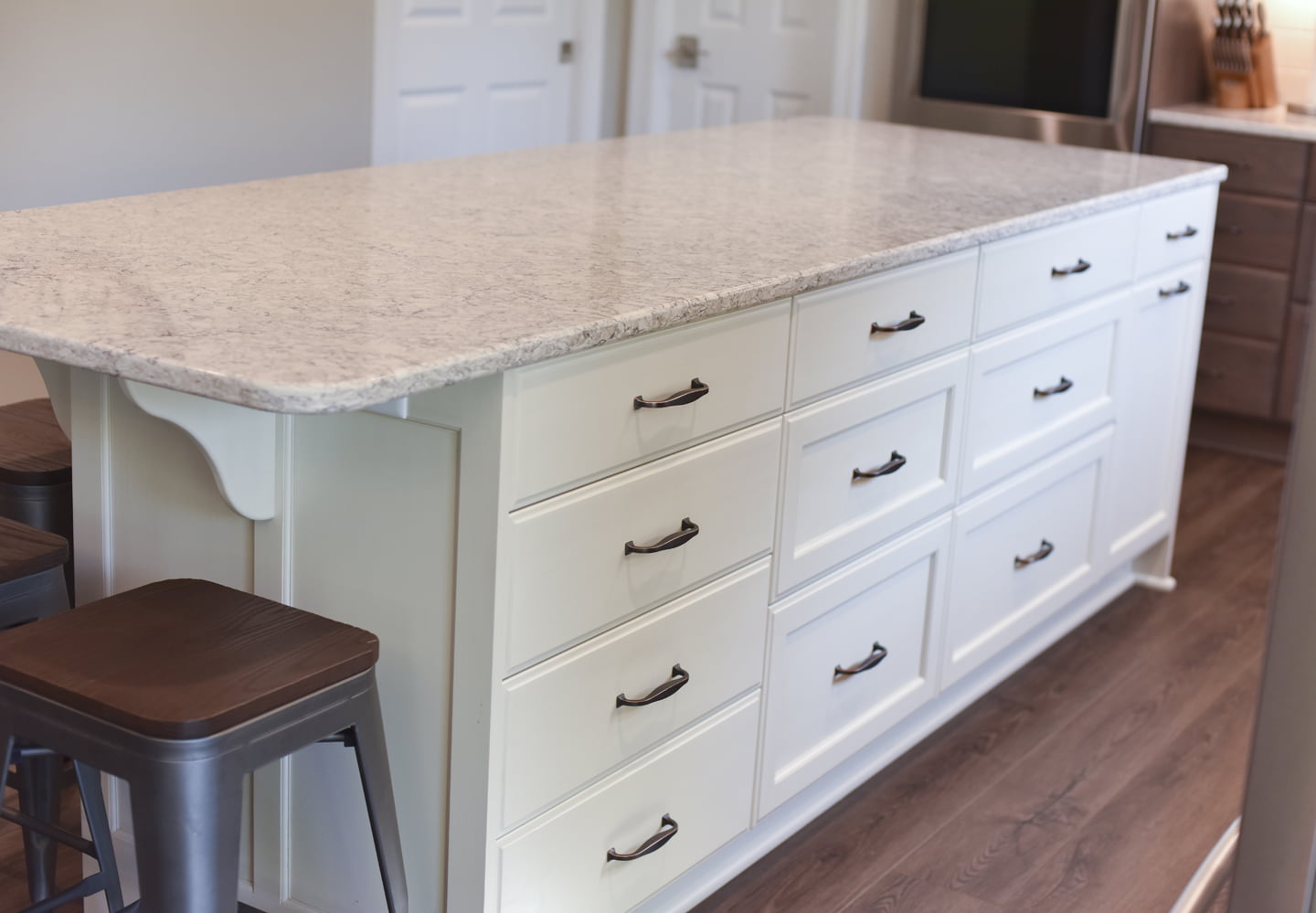 #3 – Transform – Enhance the Look
The last tip is that new cabinet doors can transform the look of your kitchen. The French Villa cabinet doors add even more charm to this traditional-style kitchen. The Cherry wood, with an added Greystone stain, also enhances the look. For functionality, the grain of this wood offers forgiveness for things such as fingerprints. This means less cleaning: a welcomed concept by any busy family.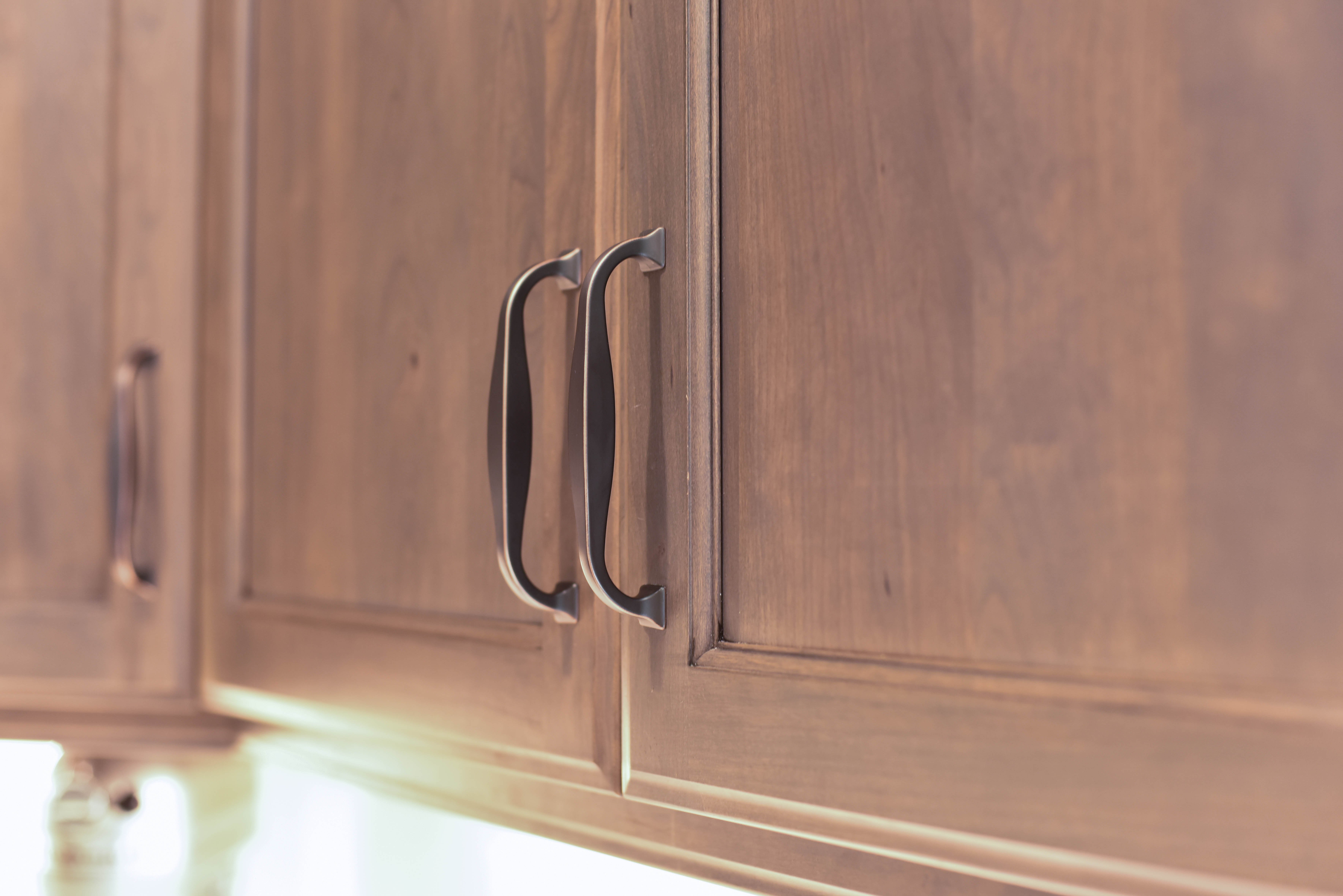 We offer full service design and selection services from cabinetry, counter and hardware selection to cabinet accessory items, bar stools, paint selections, window treatments and more. Our goal is to make your kitchen, bath, or any other room remodel, satisfying from the moment you meet with our talented design team to the final walk-through when you finally get to enjoy your home's new function and beauty.
Check out a few more photos of projects our design and install team have done for our customers! A bathroom with great color. A laundry room with texture and natural lighting. An office space with a great counter top and storage space. See their work below!
At Western Product's Interior Design Studio, we feature great brands like Crystal Cabinets, Hanstone, Silestone, Cambria, Q-Stone, Corian, Viatera, Hunter Douglas and much more. Our renowned designers, along with our entire design and install team, look forward to the opportunity to work with you on your new home or renovation project.
Our home improvement experts are committed to helping turn your home renovation dreams into realities! Stop by one of our showroom locations in either Fargo or Bismarck, or give us a call at 800-743-3632 to set up a free in-home consultation or a virtual consultation. We can talk to you no matter where you are through our virtual consultation service.
Share with your friends | Stay tuned for more blog posts