Trends in the kitchen design world are always evolving and changing. If you are planning a small remodel update or considering a completely new kitchen altogether, it's important to be aware of the new trends in kitchen design. A kitchen transformation should showcase your individual tastes and update your home.
Bill Tweten, Lead Kitchen Designer at Western Products in Fargo, ND, shared his insights on the latest kitchen design trends for Fall 2016, including white-painted cabinetry, new warm gray/taupe palettes and quartz countertops.
Trend #1: White-Painted Cabinets
Painted white cabinetry is a huge ongoing trend for Fall 2016. A bright, clean white cabinet is a staple in the classic kitchen and there are many new whites to consider, such as white foil, white stains and white paints.
"Today's painted products are such an improvement over previous finishes available in the past," said Tweten. "Today, we use a conversion varnish instead of paint. Conversion varnish won't yellow, peel or flake off and is very durable."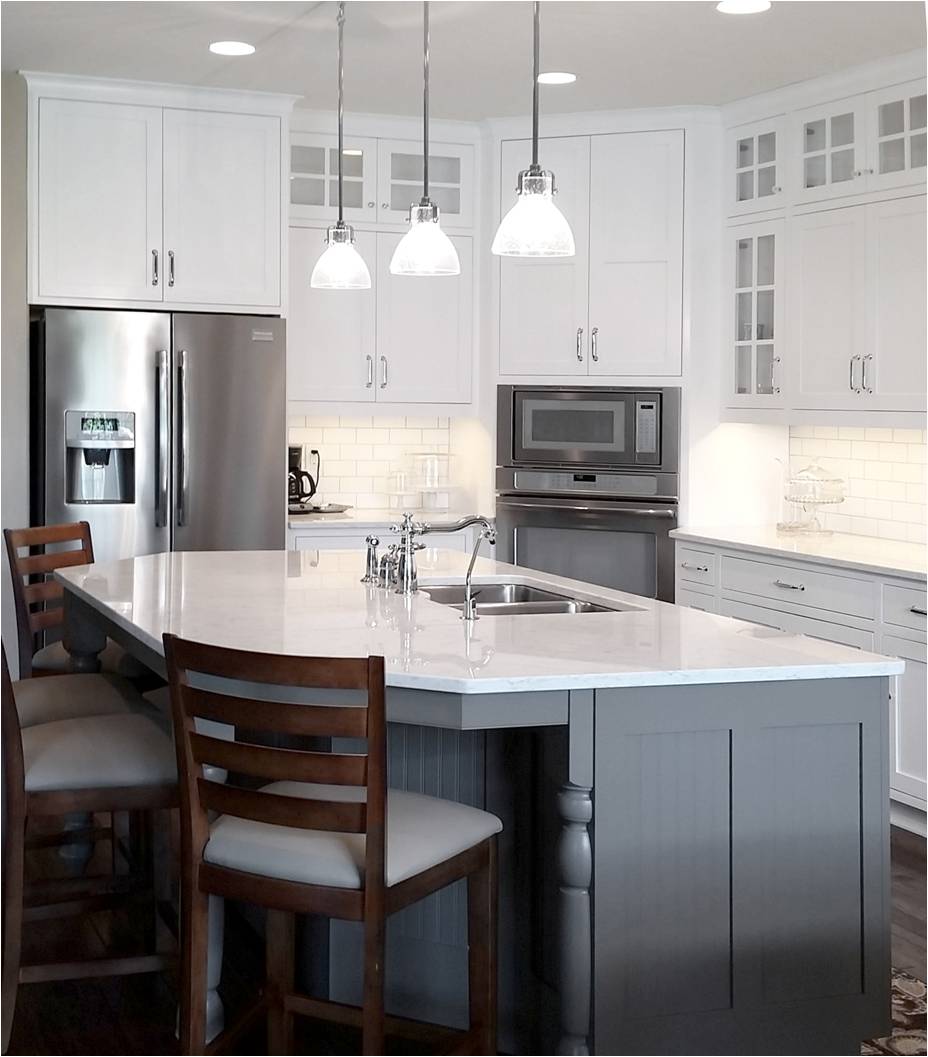 Maple wood is a popular painted cabinet choice because the wood grain doesn't show through after it has been sanded and painted with conversion varnish. The varnish is chemical and moisture-resistant and protects your cabinets.
"The problem with traditional paint and cabinetry is that the finish will take a month to fully cure," said Tweten. "So when installing a newly painted cabinet, the finish is not fully cured and can be easily damaged. The conversion varnish is a different paint system, and the product is faster to cure. Crystal cabinets accelerates this procedure with their oven process, so the varnish is fully hardened and ready to go!"
Trend #2: New, Warmer Gray Palette Options
Gray finishes on cabinetry have been trending for a few years. Recently, the most popular gray colors showing up in kitchens have warm undertones, like the taupe/gray palette, which is a fresh look derived from the many years of "fruitwood stain."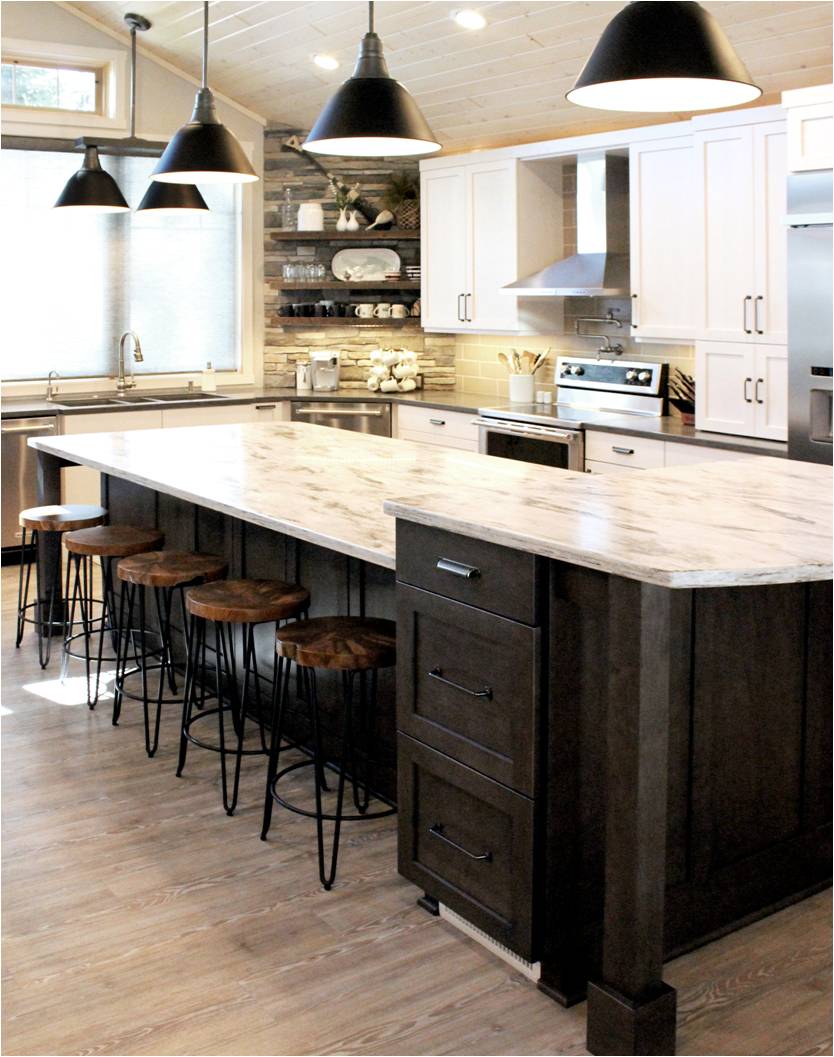 Along with the upward trend in white kitchens, warm gray colors work wonderfully as an accent or as an overall color for the whole kitchen. Crystal cabinetry, sold at Western Products, has the capability to match any existing stain or color match any paint chip, so color palettes are unlimited. The new, warm gray colors from Crystal are Driftwood, Greystone, Terra Taupe, Overcast, Gravel and Boulder Gray.
"The new grays will warm up your kitchen and give your room a unique look!" Tweten said.
Trend #3: Quartz Countertops
There has been a steady shift towards using quartz countertops in today's newest kitchens. The product is very consistent, with 93% quartz crystals and 7% resins and binding material.
"I think the shift to more quartz has also been related to the product's ability to imitate random patterns and so closely mimics the appearance of a natural stone." Tweten said, "While natural stone and acrylic products like Corian are still great choices for the kitchen countertops, there are some great features of quartz to consider. The tensile strength is better than a natural stone and the color is consistent from slab to slab because it's controlled in the manufacturing process."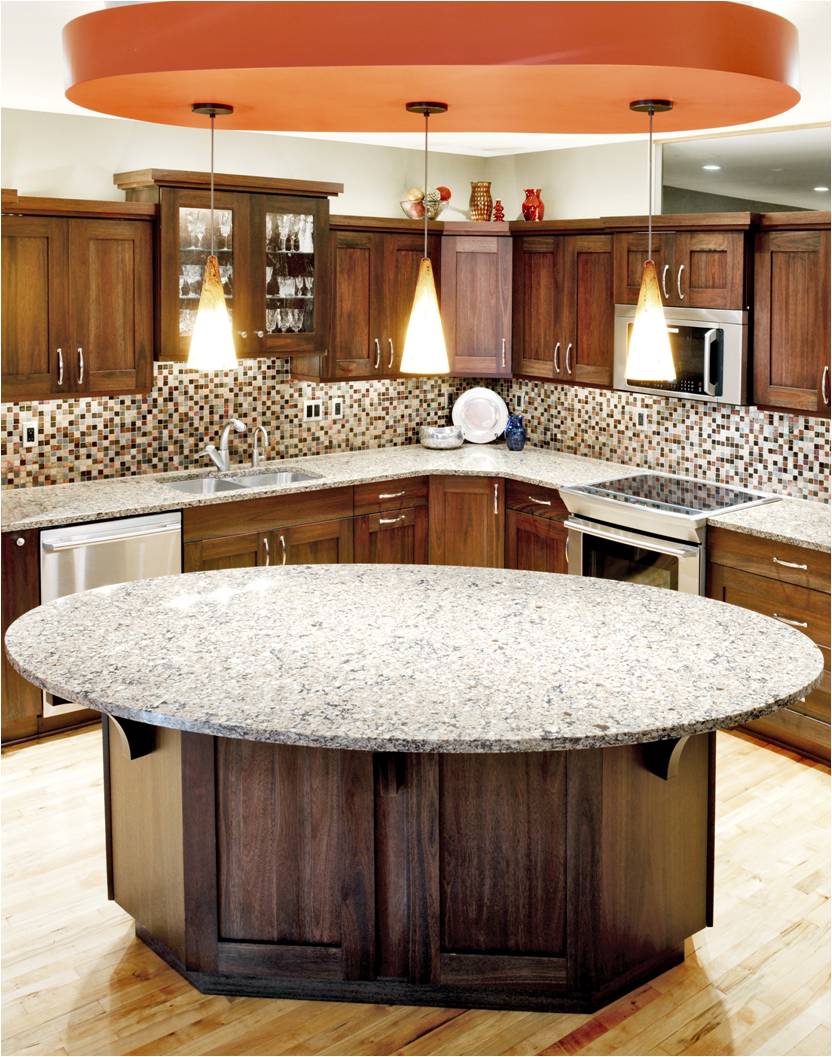 Since most kitchens require two or three slabs of material, the consistency of the individual slabs' appearance is incredibly important when planning kitchen design. Most kitchen countertops require a seam, but there is no need to seal the quartz countertop surface, because the material is non-porous and stain-resistant.
Some quartz manufactures are changing their machinery to handle the creation of bigger slab sizes, which makes larger, seamless islands possible. Seamless countertops keep the flow of the kitchen together and are especially useful for larger scale patterns — some islands wouldn't look right with a seam in the middle. Quartz countertops tend to be more costly than other stone options, but if you are looking for easy maintenance and durability, quartz might be a perfect fit for your kitchen or vanity countertop.
Quartz is manufactured all around the world, and it's easy to shop for the color palette you want while looking at all the different quartz manufacturers and the options they offer. Cambria, an American-made quartz company, uses only the brightest, whitest quartz material as their raw product, creating the perfect foundation for elegant quartz countertops.
Our home improvement experts are committed to helping turn your home renovation dreams into realities! Stop by one of our showroom locations in either Fargo or Bismarck, or give us a call at 800-743-3632 to set up a free in-home consultation or a virtual consultation. We can talk to you no matter where you are through our virtual consultation service.
Share with your friends | Stay tuned for more blog posts