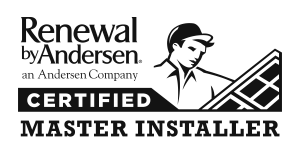 Renewal by Andersen, the replacement window division of Andersen Corporation, announced that their installers in Fargo, ND and Bismarck, ND have earned the prestigious designation of Certified Master Installer.
Renewal by Andersen has taken steps to improve the customer experience with the Certified Master Installer program. In order to be eligible for this training, a location must be achieving consistently high customer satisfaction ratings on surveys administered by a third party and the installer must meet the required number of Renewal by Andersen® window installation projects. Installers then complete the training modules which are validated by field audits.
"Installation standards, while already high, are reinforced with this program," said Peter Ostrand, Field Service and Customer Support Manager at Renewal by Andersen. "All of our installers are masters of their craft. But with this program, we elevate their skills to the next level so they will be able to answer homeowner questions and focus on the customer in a way that they have come to expect at every touch point."
Renewal by Andersen replacement windows were developed to meet the needs of an increasingly knowledgeable and environmentally-aware public. Andersen Corporation created its innovative Fibrex® material – a composite made from 40 percent reclaimed wood fiber by weight – to address the needs of the clientele who may want the look of wood, but the durability and low maintenance features of a vinyl product. Fibrex material is virtually maintenance-free and rot-resistant. The windows are custom-made in all window styles: double-hung, gliding, casement, awning and picture window.
ABOUT RENEWAL BY ANDERSEN OF FARGO
The Renewal by Andersen showroom in Fargo is located at 474 45th St S, Fargo, ND 58103. Call Renewal by Andersen in Fargo at (701) 293-5310 for directions to the showroom or visit their website at http://www.renewalbyandersen.com. Renewal by Andersen's home office and manufacturing facility is located in Cottage Grove, Minnesota.
ABOUT RENEWAL BY ANDERSEN OF BISMARCK
The Renewal by Andersen showroom in Bismarck is located at 2385 Vermont Ave, Bismarck, ND 58504. Call Renewal by Andersen in Bismarck at (701) 667-2055 for directions to the showroom or visit their website at http://www.renewalbyandersen.com.
ABOUT WESTERN PRODUCTS
Western Products was established in 1948 to provide innovative home exterior improvements with a strong commitment to quality and customer service. With more than 60,000 satisfied customers, Western Products offers high-quality American-made products and services and is recognized as one of the largest home improvement companies in the Upper Midwest. Find out more about Western Products at www.westernproducts.com and on Facebook at www.facebook.com/westernproducts
ABOUT RENEWAL BY ANDERSEN
Renewal by Andersen is the start-to-finish window replacement division of Andersen Corporation. The company offers a replacement process that includes an in-home consultation, custom manufacturing and installation through one of the largest nationwide networks of window replacement specialists. And J.D. Power ranked Renewal by Andersen "Highest in Customer Satisfaction with Windows and Doors" in 2015*. For a complimentary in-home consultation, or to view more information about Renewal by Andersen visit www.renewalbyandersen.com.
*Renewal by Andersen received the highest numerical score among window and door manufacturers in the proprietary J.D. Power 2015 Windows and Patio Doors Satisfaction StudySM. Study based on responses from 2,442 consumers measuring 14 brands and measures opinions of consumers who purchased new windows or patio doors in the previous 12 months. Proprietary study results are based on experiences and perceptions of consumers surveyed in January – February 2015. Your experiences may vary. Visit jdpower.com.
"Renewal by Andersen" and the Renewal by Andersen logo are registered trademarks of Andersen Corporation. ©2015 Andersen Corporation. All rights reserved.
Our home improvement experts are committed to helping turn your home renovation dreams into realities! Stop by one of our showroom locations in either Fargo or Bismarck, or give us a call at 800-743-3632 to set up a free in-home consultation or a virtual consultation. We can talk to you no matter where you are through our virtual consultation service.
Share with your friends | Stay tuned for more blog posts