Fargo, North Dakota (February 9, 2021) – Renewal by Andersen of Fargo-Bismarck has received the company's prestigious Green Diamond Service Award, given to the top locations in the Renewal by Andersen affiliate network. This award recognizes affiliate locations that demonstrate exemplary dedication to providing an unparalleled homeowner experience and receive the highest scores on the company's Homeowner Surveys during the prior year.
The Renewal by Andersen brand promises to exceed homeowners' expectations and deliver delight. Renewal by Andersen of Fargo-Bismarck has achieved that goal with this recognition. This is the second time the location has been honored with this award.
One delighted customer commented, "We had Renewal by Andersen do our whole house, and couldn't be happier with the results! Our installers were very professional and excellent at their job, and the finished product is beautiful! The windows are quiet, smooth opening, and tinted to perfection!"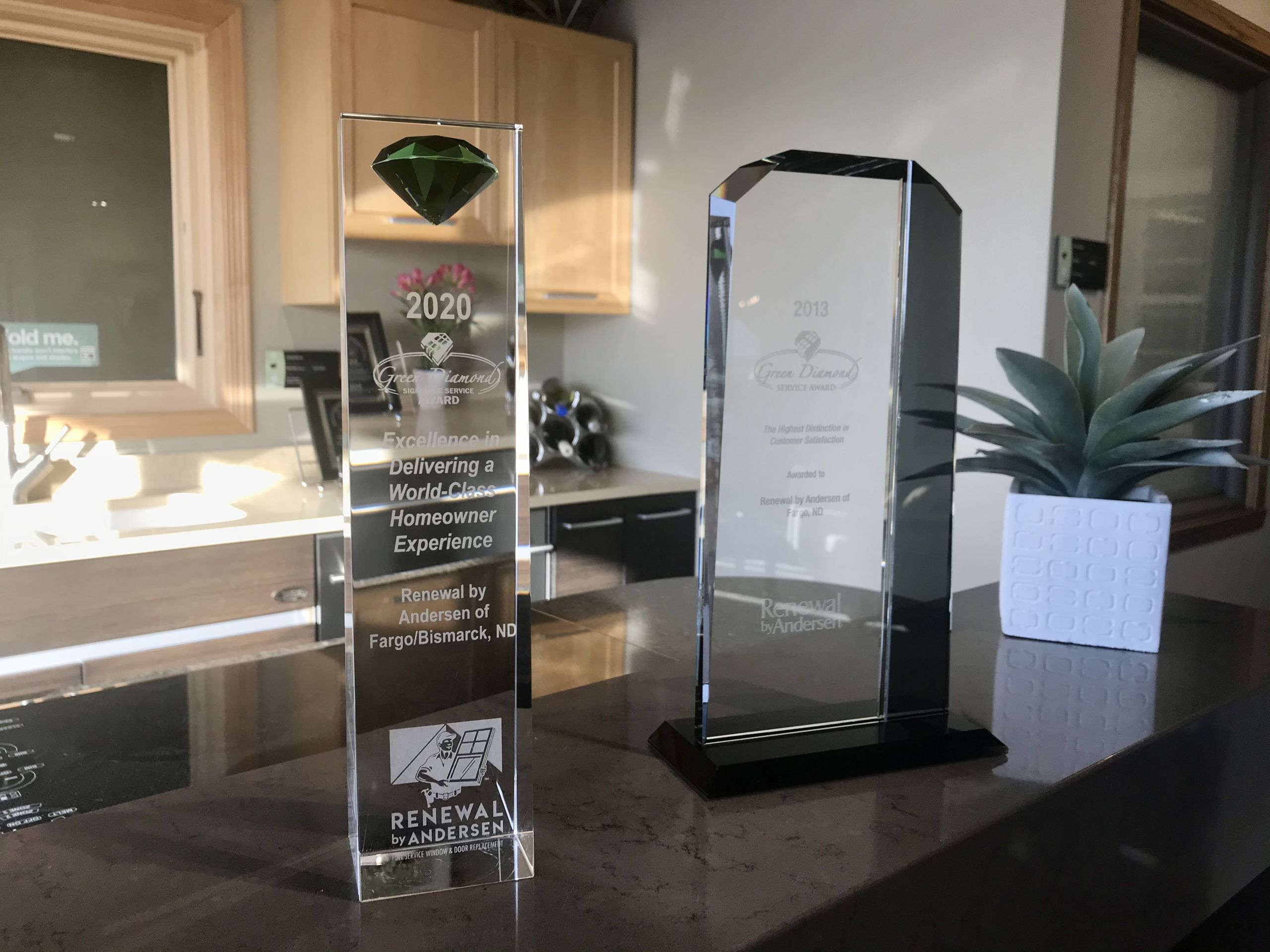 "Providing an amazing experience to the homeowners who trust us with their window replacement project is our top priority," said sales manager Ben Warren. "Going above and beyond is ingrained in our company culture and is something we strive towards every day, so it is an honor to be recognized for our efforts!"
"We are proud to announce that Renewal by Andersen of Fargo-Bismarck, has achieved this award, recognizing exceptional and rare achievements in the homeowner experience arena," said Troy Barrow, president of Renewal by Andersen. "High standards of quality and excellence in all facets of our interactions with homeowners are top priorities, and Green Diamond Award winners are considered the best of the best."
About Renewal by Andersen
As the start-to-finish window replacement division of Andersen Corporation, Renewal by Andersen's Signature Service is committed to giving you the best customer experience possible, through the perfect combination of the best people in the industry, a superior process, and an exclusive product through one of the largest nationwide networks of window replacement specialists. For a complimentary in-home consultation, or to view more information about Renewal by Andersen visit www.renewalbyandersen.com.
About Renewal by Andersen of Fargo-Bismarck
Renewal by Andersen of Fargo-Bismarck proudly serves the window and patio door replacement needs of the Dakotas and Western Minnesota area. A commitment to quality products, professional installation, and exceptional service has made them the most trusted name for replacement windows and patio doors in the Upper Midwest.
Our home improvement experts are committed to helping turn your home renovation dreams into realities! Stop by one of our showroom locations in either Fargo or Bismarck, or give us a call at 800-743-3632 to set up a free in-home consultation or a virtual consultation. We can talk to you no matter where you are through our virtual consultation service.
Share with your friends | Stay tuned for more blog posts