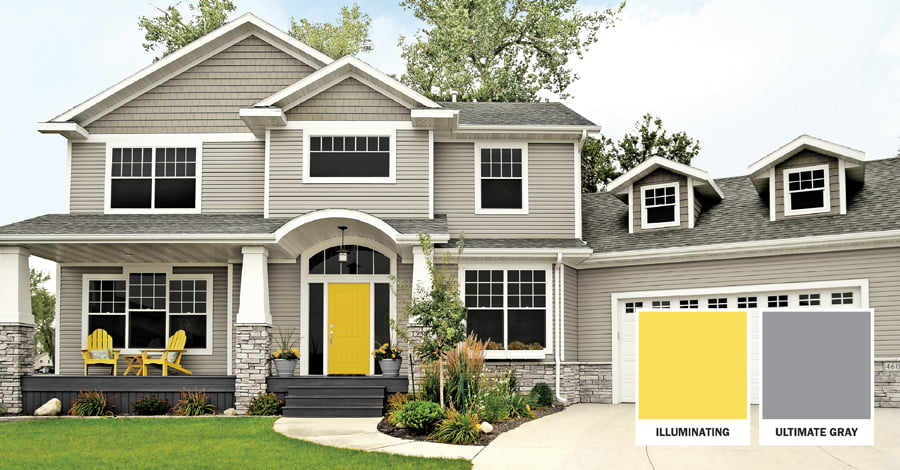 Just one month into the new year, 2021 is already shaping up to be full of fresh opportunities. For instance, we expect a wealth of renovation possibilities. The Pantone Color Institute surely understands this home improvement potential, based on their 2021 colors of the year: "Ultimate Gray" and "Illuminating" yellow. According to Pantone, the pairing of these two colors sends "a message of strength and hopefulness that is both enduring and uplifting." Indeed, the clean simplicity of Ultimate Gray and the dynamic energy of Illuminating offer a bold new home exterior color scheme—one that Western Products can achieve with our renovation expertise.

To start, Western Products has a near-perfect color match to Pantone's Ultimate Gray in our highly customizable seamless steel siding. This match is "Ash," a siding color that captures the utilitarian yet graceful feeling of Pantone's swatch. Because of these qualities, Ash is a good all-around siding color choice for any home. It creates a stable base from which unique architecture, siding customization, or accent colors can really shine.
Additionally, choosing Western Products to match Pantone's colors of the year over other home renovation companies means a higher level of durability and customization. For instance, United States Seamless steel siding from Western Products comes with a limited lifetime warranty. This means we will deliver the highest level of siding quality and durability available. Further, our professional installation crews cut the siding to the exact specifications of each individual home. This ensures both a sleek appearance and extra-effective protection from the elements from every possible angle. Regarding customization, we offer over 20 different siding profiles and dozens of siding, gable, window, and door accents to choose from. As a result, we can achieve any desired home exterior style.
After setting the stage with siding in the color Ash, the next step is to match Pantone's Illuminating yellow. This invaluable pop of color will surely serve as an elegant accent for your project. One visually pleasing way to incorporate Illuminating is through Western Products' selection of entry doors. Entry doors that add a color splash have remained consistently stylish in the home exterior market over the past decade. Showcasing a bright or distinct color on an entry door brings visual intrigue to homes, without becoming overbearing to the overall building aesthetic and neighborhood style.
We recommend getting the perfect yellow door from our offering of ProVia entry doors. As a matter of fact, ProVia has a custom paint color service that can match any paint color exactly. All they need is the corresponding paint swatch with the color name and paint number. Learn more in ProVia's Color Lookbook. Through this service, we can achieve the color glow that Illuminating offers on any of ProVia's steel or fiberglass doors. And of course, ProVia offers a high level of customization through woodgrain texture options, decorative glass, and more.
To learn more about how Western Products can help incorporate Pantone's colors of the year in your home improvement project, please feel free to contact us for a free consultation. We look forward to turning your 2021 dreams into realities!
Our home improvement experts are committed to helping turn your home renovation dreams into realities! Stop by one of our showroom locations in either Fargo or Bismarck, or give us a call at 800-743-3632 to set up a free in-home consultation or a virtual consultation. We can talk to you no matter where you are through our virtual consultation service.
Share with your friends | Stay tuned for more blog posts