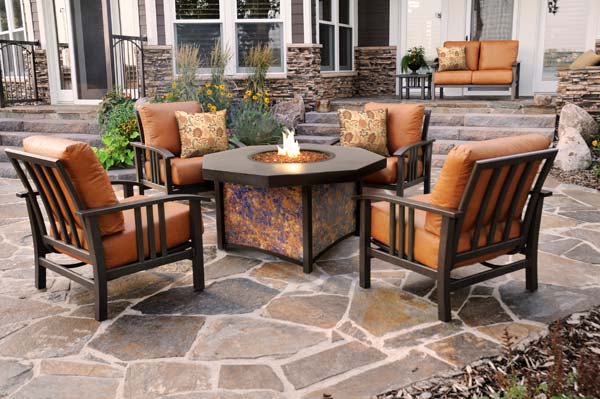 Do you find yourself after Labor Day staring at your patio with sadness that the summer is over? But your patio doesn't have to go unused just because it's not summer. We've got some patio ideas for entertaining outdoors. Enjoy your patio year round with these party ideas and themes for having a great time no matter what season it may be.
Fall
Fall is a great season to gather with friends and family whether it's going for a hay ride, hanging out by the fire, or picking apples. Plan a Fall Harvest party for friends and family to come and gather around the fire pit making s'mores and singing campfire songs. Make sure to check out these great recipes for harvest beverages for adults to enjoy. If the weather is nice enough, the patio is great place to carve your pumpkins without worrying about the mess!
Winter
Just because winter weather hits doesn't mean you can't be outside and enjoy the fresh air. A great way to pass the winter by is relaxing in a spa . Invite friends over for a bottle of champagne and enjoy the cold winter night or there is nothing wrong with going in by yourself for some quiet time. Hot tubs offer a variety of ways to relax your whole body including the warmth of the water and massaging jets. It also benefits you by putting you into a deeper sleep.
Spring
Winter is coming to an end and everyone is getting ready for the new season! Why not throw a party to help friends and family start off spring! A Spring Fling party is a great way to shed the winter blues and have a great party outdoors for all to enjoy. Good food, having a few drinks, and outdoor entertainment with your outdoor dining set. Find drink recommendations for the Spring Fling theme on www.punchbowl.com's website. If you would like more information on supplies for this Spring Fling theme, browse Party City for decorations and more patio necessities. Party City always has a great selection of themed party favors for all your patio events!
Summer
Stop stressing; Party 411 has great party ideas especially for the busy summer months! A simple, yet traditional summer theme is a good ol' summer barbecue. This is a wonderful party idea for the whole neighborhood. You can't go wrong with backyard fun for all ages to enjoy! The summer barbeque theme is simple yet relaxing that doesn't take too much preparation. Some great ideas for the kids to be entertained are easily found on Pinterest. At the end of the night, gather around the fire pit and patio set with a few cocktails, friends and neighbors. An easy Backyard BBQ party planner is on www.party411.com.
All the seasons have something to offer for patio party ideas. Entertaining outdoors doesn't have to stop just because the summer has ended. Even when it's summer, there are ideas for a patio gathering from classic backyard BBQs to custom themed celebrations.
If you're looking for new patio furniture customized to your idea of a perfect patio, we'd love to visit with you about your outdoor entertaining needs.
Our home improvement experts are committed to helping turn your home renovation dreams into realities! Stop by one of our showroom locations in either Fargo or Bismarck, or give us a call at 800-743-3632 to set up a free in-home consultation or a virtual consultation. We can talk to you no matter where you are through our virtual consultation service.
Share with your friends | Stay tuned for more blog posts