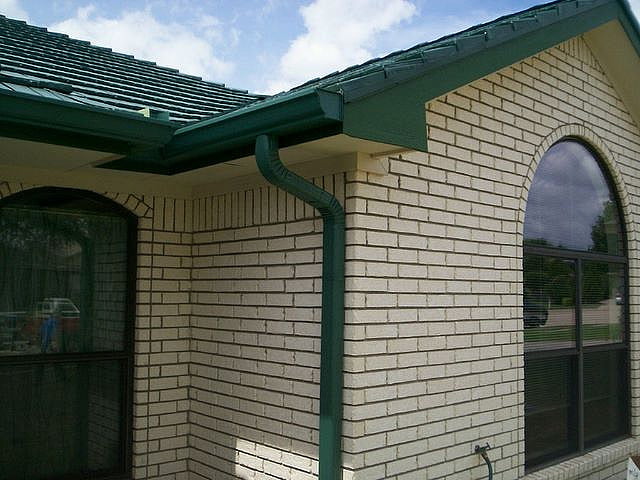 There are no seams in seamless gutters
"No seams in seamless gutters" is mostly true. If there were absolutely no seams, downspouts (the section of gutters that carry water from your roofing to the ground for drainage) could not be added at custom positions according to your home. Compared to other types of gutters, there are virtually no seams in our aluminum and steel gutters which reduce the potential number of leaks. The seamless aluminum gutters also look more consistent and visually appealing.
The best choice is aluminum gutters
Aluminum gutters can be the best choice for several reasons like being resistant to rust but it's not the best choice for every situation. As a homeowner, you will want to consider the common weather elements of your area. While aluminum is the best for resisting rust, steel gutters are more resistant to dents and bents. Also the age and style of your home will determine your gutter needs. In the case of historical restorations, copper gutters or even wood gutters are more historically accurate.
Gutters must be cleaned all the time
Each homeowner's situation is different. An expert gutter estimate of your yard and the location of trees will indicate how often seamless gutters will need to be cleaned. The minimum recommendation is once a year for cleaning and evaluating for leaks. If you have older trees that produce excessive foliage, you might have to clean your gutters twice a year—once in the fall and again in the spring. You can make the cleaning of your gutters and the frequency less by installing gutter guards like Leafaway to help protect from falling debris such as leaves.
You must have gutter guards if you have trees
Not necessarily true. If your trees are not mature, they might not be tall enough for falling leaves to end up in your gutters. Also consider the location of your trees. Are they within 200 feet of the edge of your roof? You might not need gutter guards. However, if you have trees near by that produce extreme amounts of fallen foliage, such as trees with needles like pine, gutter guards are a necessity. Ask your local gutter expert why they are suggesting gutter guards for your home specifically.
The Original Gutter Guys only serve the Fargo area
False! The Original Gutter Guys serve Fargo, Bismarck, St. Cloud and the surrounding areas. Whether you need gutter protection in Sauk Rapids, MN or a new set a seamless aluminum gutters in Grand Forks, ND, the Original Gutter Guys are happy to provide a free estimate and evaluation of your current gutter needs.
Our home improvement experts are committed to helping turn your home renovation dreams into realities! Stop by one of our showroom locations in either Fargo or Bismarck, or give us a call at 800-743-3632 to set up a free in-home consultation or a virtual consultation. We can talk to you no matter where you are through our virtual consultation service.
Share with your friends | Stay tuned for more blog posts