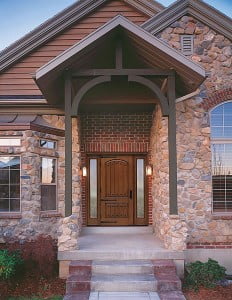 First impressions are everything when it comes to your home. Your home's exterior, including the front door, should serve as a snapshot of your home's overall style and provide a welcoming exterior. Entry doors have to withstand the wear and tear of everyday life, as well as outdoor elements and changing temperatures. A quality front door protects your home, showcases your personal style and adds to your curb appeal, like the doors built by Therma-Tru from Western Products.
There are a few simple ways you can make your entry way a welcoming space and bring the focus back to your front door.
1. Clean and Repair Your Front Door
One of the simplest ways to improve your front door appearance is by cleaning it. Start by cleaning off any dirty spots around the knob and other places on your door in need of a good cleaning. Using metal polish on the door fixtures can also help your door shine like new!
You may notice that your entry door sticks, creaks or does not close as easily as it did when it was first installed. Like every other part of your home, your front door is susceptible to wear and tear. Wood expands and contracts in changing temperatures, so after your house has "settled" you may need to make simple adjustments to make sure your entry door can still be easily open and shut.
If you have a squeaky door, applying some type of lubricating oil to your door hinge can help. A front door that sticks can be solved a couple different ways, including tightening loose screws, swapping the bottom and top hinges and filling stripped holes. If you do not feel comfortable fixing your door yourself, make sure to ask for an expert's opinion and help.
2. Color and Decorate Your Front Door
There are several smaller ways to improve the appearance of your front door. It's hard to pinpoint exactly what makes the appearance of a house stand out from all the others. However, all the best examples of curb appeal feature a superior front door, a pleasant color scheme and landscaping to soften the look of your entry space and front door.
A couple good ways to begin making a statement with your front door is to decorate around it or give it a splash of color. Therma-Tru front doors come in a variety of appearances, colors, styles and have the option of decorative glass for some of our collections. Your home's front entry is the focal point for your curb appeal and our doors are perfect for tailoring to any of your entryway needs!
Another way to get your front door to pop is to use different potted plants or sculptures to bring attention to your entryway. Most stores have options for these types of decorations – make sure to find your own style!
One thing to remember when it comes to decorations on your entryway space: less is more. Don't let your decorations distract from the other wonderful parts of your entryway!
3. Buy a New Front Door
Although there are many ways to improve the appearance of your front door, you may feel that it is time to start over and purchase a brand new front door.
If you're not sure where to begin when choosing a new entry door, discover ideas for a new door on Pinterest and Houzz, which are both great tools for discovering home improvement ideas.
One thing to keep in mind as you are searching for a new front door is that if you choose an energy-efficient exterior door, you may trim off a large chunk of your energy bill, adding up to hundreds each year.
Once you have an idea of what would be the best fit for your home and your personal style, it is time to work with a remodeler to help you find the right door. If you started your process by finding a manufacturer of a door like Therma-Tru, you can find contractors and home improvement companies like Western Products who specialize in helping you select and install the best door for your home.
With these three tips, you can make your home stand out on the street and have a sense of pride when you come home each day.
Our home improvement experts are committed to helping turn your home renovation dreams into realities! Stop by one of our showroom locations in either Fargo or Bismarck, or give us a call at 800-743-3632 to set up a free in-home consultation or a virtual consultation. We can talk to you no matter where you are through our virtual consultation service.
Share with your friends | Stay tuned for more blog posts