Western Products Offers Style, Performance, and Protection with Therma-Tru Entry Doors!
With Western Products, your entry door can have it all: strength, beauty, security, and of course, energy efficiency. Our fiberglass and steel entry doors from Therma-Tru give you all of the performance features you need, plus a variety of customization options to reflect your unique style. Find your perfect pairing in one of three premium collections: Refined Simplicity, Modern View, and Eased Elegance. Once you experience a Therma-Tru, you'll want to enhance every doorway in your home.
Therma-Tru: Safety, Security & Style
As a company that builders and remodelers trust, Western Products sets the industry standard in excellence. We have a passion for top-quality, durable lines such as Therma-Tru entry and house-to-garage doors. Not only can high-performance doors like Therma-Tru enhance your home's style, but they will also increase your market value, security, and energy efficiency.
Whether you're updating your side garage door or grand entrance, Western Products has you safely covered. In fact, every Therma-Tru fiberglass and steel door is rigorously tested to withstand a minimum of 20 minutes of fire exposure. Not to mention, severe temperatures can result in compromised performance, including air infiltration, cracking, expansion, or warping. Thankfully, Western Products' doors can take the heat and prevent water leakage!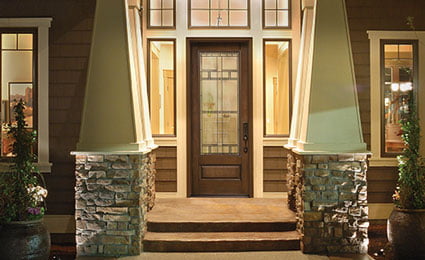 Therma-Tru: Fiberglass Doors
When it comes to value and performance, it's hard to beat a fiberglass entry door. As a durable alternative to wood, fiberglass has proven to be a perfect union of superior strength and beauty. Therma-Tru combines the aesthetic advantages of wood and the performance of steel, overall creating the look you want and the longevity you need.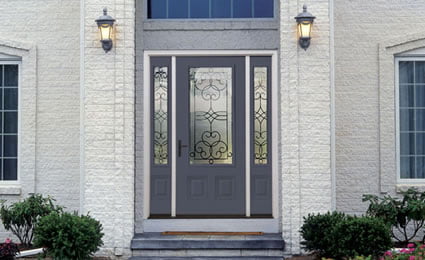 Therma-Tru: Steel Doors
Therma-Tru's steel door selections feature a wood edge and embossed steel that simulates the look of real wood. To create authentic wood patterns, Therma-Tru entry doors use a high-definition embossing process that defines the style of traditional wood paneling, directly onto steel. In other words, you'll have an attractive entry door with deeply embossed contours and shadowing that will have even the closest observer second-guessing!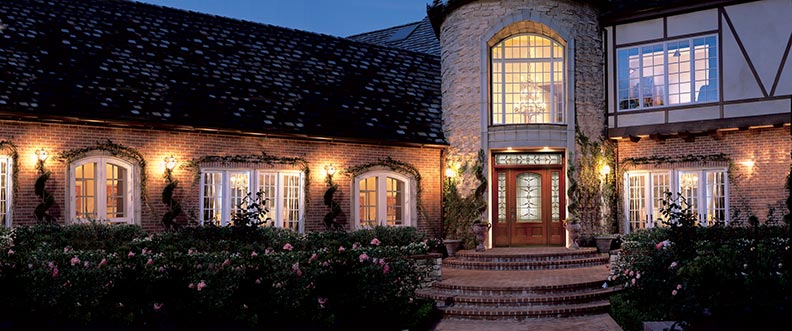 Impact-Rated Glass + Opaque Impact-Rated Doors
Western Products offers beautifully designed, impact-rated glass and impact safety glass that hides unattractive screws. With Therma-Tru you'll also have access to a selection of opaque impact-rated doors that are designed with a steel plate inside to withstand hurricane-force winds. In fact, Therma-Tru offers the highest structural ratings available in the marketplace today. So, when harsh Midwest weather rolls in, your home's interior will be protected, and your door will be backed by a full-system warranty!
Therma-Tru entry doors are constructed to help protect the interior of the home from high-velocity winds, and they're also tested to meet many area codes and regulations. Since building code requirements differ by location, make sure to confirm yours before purchasing.
Decorative Glass
With an interest in custom craftsmanship on the rise, decorative door glass is right on-trend. Therma-Tru entry doors allow you to select from many different decorative options ensuring enhanced curb appeal and privacy. Overall, decorative door glass has significant benefits beyond beauty:
Elevate curb appeal + perceived home value
Increase exposure to natural light
Reflect your personal style
Recreate historic elements in preservation projects
Enhance protection with impact-rated glass options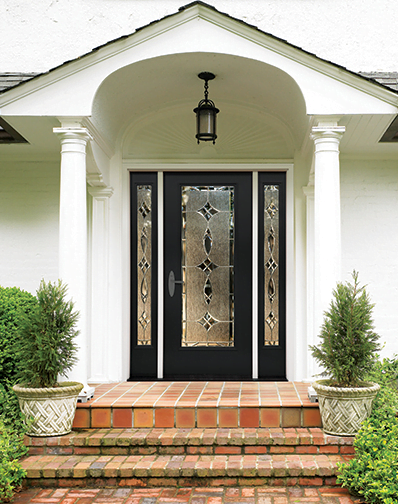 Water Infiltration and Thermal Deflection Tested
Severe temperatures can eventually lead to compromised performance, including air infiltration, cracking, expansion or warping. Thankfully, Western Products' doors can withstand heat and prevent water leakage – the effects of extreme weather are no match for our high-quality products!
Get a Free Quote on Therma-Tru Entry Doors!
Since 1948, we've focused on providing quality products, professional installation, and exceptional service. This is why Western Products is now the most trusted name in windows, siding, roofing, cabinetry, doors, and more. Schedule your free estimate today!
Call Western Products today at 1-800-743-3632.