Western Products Offers Style, Performance and Protection with Therma-Tru Entry Doors
As continuing pioneers in the fiberglass door industry since 1983, Therma-Tru has redefined the entryway with its stylish, high-performance products.
Therma-Tru Entry Doors for Front Entries and Garages
Western Products sets the industry standard in excellence and design for garage and front entry doors. As a company that builders and re-modelers trust, we have a passion for customer service and top-quality products. Because of this, we ensure that our lines of Therma-Tru entry doors come with high satisfaction and unparalleled durability. Also, a Therma-Tru front door will increase your home's curb appeal. And, in addition, it will provide the benefit of a marked increase in:
Comfort
Energy efficiency
Performance
Renew your home's overall appearance and increase its value by replacing your current entry door with one of our quality fiberglass or steel entry doors. Let us help you feel good about the way you see your home.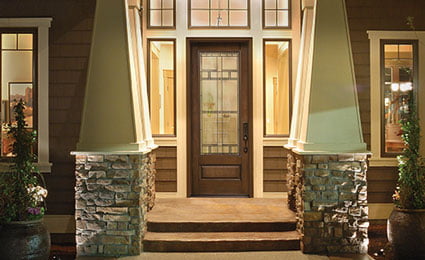 Therma-Tru Fiberglass Doors
Nothing beats fiberglass doors for value and performance.
Fiberglass front doors are a durable alternative to wood. This is because doors made of fiberglass combine the aesthetic advantages of wood doors and performance advantages of steel doors. Consequently, this creates a strong and beautifully crafted front door that enhances a home's look.
Fiberglass doors also offer a superior combination of security, performance, easy maintenance and aesthetics to outperform wood doors.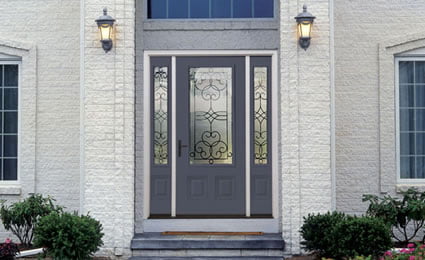 Therma-Tru Steel Doors
Western Products' steel door selections have a wood edge and embossed steel that simulates the look of real wood to give your garage or front entry door the traditional feel of wood with benefits of steel. With our wonderful decorative glass options, you will have a beautiful and durable entry door that won't crack, warp or yellow when it ages.
Our high-definition embossing process creates the style of traditional wood paneling on steel entry doors. The results are attractive entry doors with deep embossmened contours and shadowing in steel doors.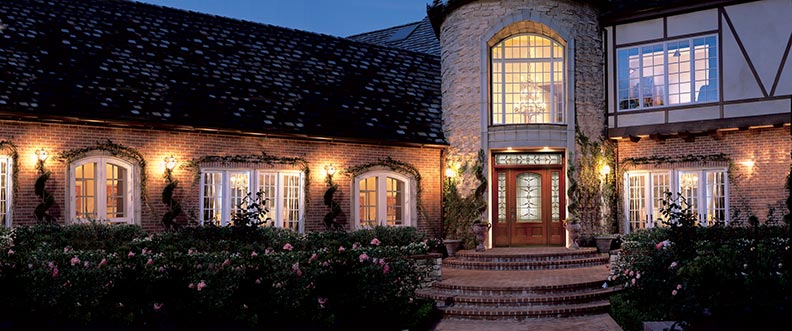 Fire-Rated Garage and Entry Doors
Western Products offers an industry-leading selection of fire-rated fiberglass doors. Our steel and fiberglass entry doors are tested to withstand a minimum of 20 minutes of fire exposure.
Our fire-rated doors keep your home safe and still let you to express your personal style, all while delivering the same quality Western Products always delivers.
Decorative Glass
The growing trend of decorative glass for front doors creates dramatic entryways that increase curb appeal while still ensuring privacy. Your home will stand out with our entry door decorative glass and have distinct added benefits:
Increased curb appeal
Increase in perceived home value
Increased natural lighting
Reflection of your personal style
Increased protection from severe weather with impact rated glass options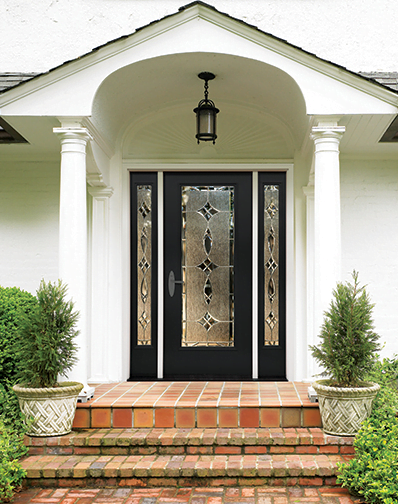 Add Value to Your Home
Installing a new, attractive front door is a cost-effective investment that can have a major impact on a home's curb appeal. An attractive front entrance can boost perceived market value by as much as five-times the cost of the door itself!
Purchasing a garage or front entry door from Western Products ensures that your home has the most effective fiberglass or steel door on the market, backed by a full system warranty. Our entry door components are designed to provide lasting performance, security and energy efficiency.
Protect Your Home
Each garage and front entry door from Western Products protects your home from the damaging effects of heavy winds, rain and severe weather. Our impact rated doors maximize the seal between the door and the frame to keep out damaging effects of the elements, increase energy efficiency and offer beauty and style for stronger curb appeal.
Water Infiltration and Thermal Deflection Tested
Severe temperatures can eventually lead to compromised performance, including air infiltration, cracking, expansion or warping. Thankfully, Western Products' doors can withstand heat and prevent water leakage – the effects of extreme weather are no match for our high-quality products!
Impact-Rated Glass
Western Products' impact-rated glass is tough when you need it and always beautiful.
We offer gorgeously designed, impact-rated glass and impact safety glass that hides unattractive screws while providing nearly endless hardware options. Not only will our glass ensure eye-catching curb appeal and stand up to all types of harsh weather, impact-rated glass also increases the value of your home. Western Products' entry doors set the bar for excellent performance in extreme weather conditions by providing additional protection.
Constructed to help protect the interior of the home from high-velocity winds, these products are tested to meet many areas codes and regulations. Building code requirements differ according to location, so make sure to always confirm yours before buying.
Opaque Impact Rated Doors
Opaque impact rated doors are ideal for areas, like the Upper Midwest, that experience severe weather conditions. Our impact rated doors offer plenty of style choices while providing this essential protection. Our opaque impact doors are designed with a steel plate inside to withstand hurricane force winds.
With the highest structural ratings available in the marketplace today, you can rest assured that the door of your home will remain intact during even the harshest weather.
Get a Free Quote on Entry Doors in Fargo, ND
Discover how a commitment to quality products, professional installation and exceptional service has made Western Products the most trusted name in entry doors in Fargo and across the Upper Midwest for more than 70 years. Schedule a complimentary discussion to get a free estimate on entry doors in Fargo, ND, by calling Western Products today at 1-800-743-3632.