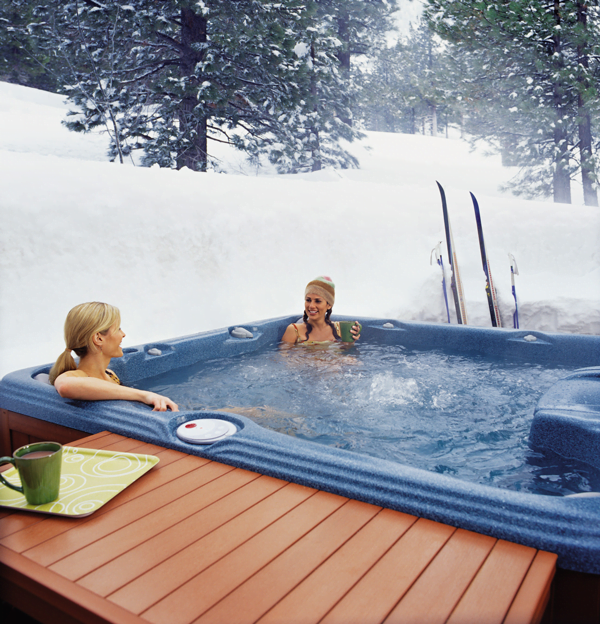 Exterior spas and portable hot tubs can be used year-round and are especially great for winter use! However, if you aren't planning on using your spa this winter, fall is the perfect time to drain and clean it, before the weather gets too cold and causes damage to your hot tub. Here are some important steps to take in order to safely put your hot tub on "standby" until next spring.
1. Power Down Your Spa
First and foremost, power down your hot tub. This makes the rest of the process of preparing for winter weather safer and easier.
2. Completely Drain Your Spa
The major risks a hot tub faces in the winter are caused by improper draining. If you don't completely drain your hot tub pipes, any excess water can freeze, crack your pump and cause hundreds of dollars of damage to your hot tub.
3. Disconnect the Pumps
This is another step that is easy to forget but is very important for spa upkeep! Failing to disconnect your pumps before winter can cause the pump to freeze and crack in the lower temperatures. Water can get trapped in your plumbing and damage your hot tub if it freezes. Take time to disconnect the pump from your hot tub before taking the next step to prepare your hot tub for winter.
4. Vacuum Out Excess Water
After your pump is disconnected, make sure that all excess water is removed. The most effective way to do this is to use a shop vacuum to get out all excess water in the spa and each individual jet line, including the main lines.
5. Double Check Your Work
It's easy to miss some of the water you've been draining from your hot tub pipes. If there is still extra water in your spa lines, keep vacuuming until all leftover moisture is out of your pumps.
6. Cover and Protect Your Hot Tub
Depending on where your spa is located, another potential danger to be wary of during the winter months is rodents. Set up some pest control for mice near your pumps and hot tub electrical machinery to ward off any unwanted damage to these important spa components.
Once you have taken all of these steps, secure your hot tub by placing a cover over it. Make sure heavy winds and storms won't loosen the cover and blow it away. When spring arrives, you can easily begin enjoying your hot tub again!
This entire process can take anywhere from 45 to 60 minutes, prevents future damage and ensures that your hot tub will be in prime condition the next time you want to use it. With proper maintenance on your hot tub, you will be able to enjoy it for many years to come!
If you're in the market for a new hot tub and the best that hydrotherapy spa can deliver, contact Western Products and we'll help you find the perfect fit for your backyard!
Our home improvement experts are committed to helping turn your home renovation dreams into realities! Stop by one of our showroom locations in either Fargo or Bismarck, or give us a call at 800-743-3632 to set up a free in-home consultation or a virtual consultation. We can talk to you no matter where you are through our virtual consultation service.
Share with your friends | Stay tuned for more blog posts