Gutter Gekko: Advanced Gutter Protection

Gutter Gekko From Western Products is a Stainless Steel Mesh Gutter Screen That Protects Your Home, Eliminates Clogs, and Keeps Your Feet Planted Safely on the Ground! 
Eliminate Gutter Cleaning Forever
Hate the tedious and dangerous task of climbing a ladder to clean your gutters? Sick of hiring gutter cleaners in the spring, and then again in the fall, year after year? Western Products offers the solution with Gutter Gekko!
Protect your Home
Besides protecting you from the dangerous job of climbing a ladder, Gutter Gekko also protects your property by eliminating clogged gutters. Gutter Gekko will protect the upper portion of your home from rotted soffit and fascia boards, rain-soaked ceilings, mold in the attic, and also ice damming in the gutters themselves. Your gutters will always be able to maintain maximum water capacity and prevent rainwater run-off. Because of this, there's no need to worry about cracks in the foundation or damage to landscaping.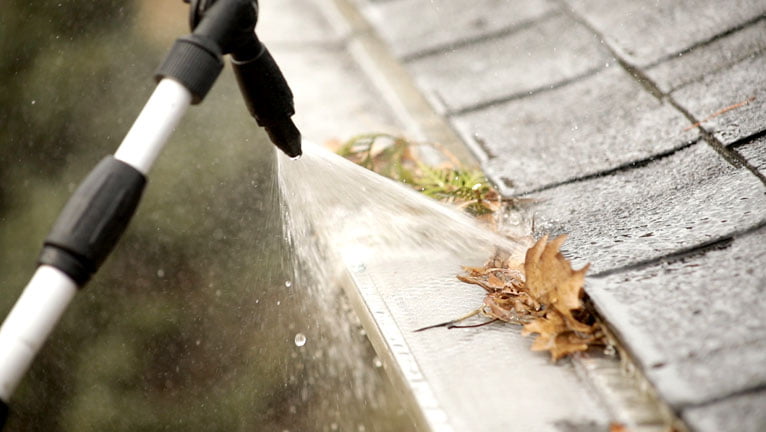 No More Overflow
Gutter Gekko is a fast, effective option for gutter protection. It will certainly keep your gutters free from leaves, twigs, maple seeds, and even pine needles. The expanded mesh gutter screen stands up to all that Mother Nature has to offer, even 60 gallons of water per minute. Overall, it allows debris to blow off easily, thanks to its low-profile design.
Gutter Gekko simply sits on top of your gutter brackets and screws into place. This placement makes it virtually invisible from the ground. It also enhances your home's curb appeal, all while protecting it from the damage that overflowing gutters can cause. Plus, birds and pests can no longer make their homes in your gutters. And finally, harmful mold, mildew, and rot will be a problem of the past!
Stainless Steel Strength
Gutter Gekko is made with surgical-grade, stainless steel micro-mesh. The mesh is then fused over a strong .024 gauge aluminum body for a corrosion-free finish. For added strength, the two layers are secured together through a patented "hemmed" mesh process.
Gutter guards have four-foot sections that are pre-notched for overlaps and will fit five- or six-inch gutters. Of course, a reinforced edge provides strength and support between the gutter brackets. Not to mention, it's proudly made in the USA!
For over 75 years, we've focused on providing quality products, professional installation, and exceptional service. Today, Western Products is the most trusted name for your gutter protection and home improvement needs in the Upper Midwest.
Schedule your free estimate by calling Western Products today at 1-800-743-3632.