Western Products, Inc. Donates to Ronald McDonald House of the Red River Valley
Fargo, ND—April 17, 2014—Western Products, a local and regional home improvement company recently donated a dozen wall mounted, flat panel televisions to the Ronald McDonald house of the Red River Valley. The TVs will be installed in homes run by the non-profit throughout the Fargo-Moorhead area.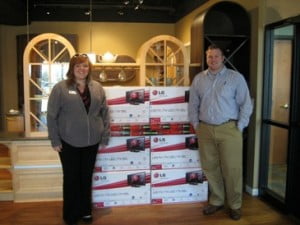 Almost $3500 in funds was raised by employees at company sponsored events, like raffles, pot-lucks and game boards. Erica Johnsrud of Ronald McDonald House said that the TVs "provide a sense of normalcy and routine for the families and anyone with small children know how important it is to have a routine!" Many Western Products employees have young families and can empathize with the families who stay in the Ronald McDonald Homes and made raising the funds for a symbol of comfort an easy goal to reach.
Raising money to support local charities is a cornerstone of Western Products and Affiliated Companies' culture because it is imperative that businesses give back to the communities that support them. Past fundraisers have benefited local charities like Make A Wish, where enough funds were collaboratively raised to sponsor a entire child's wish, March of Dimes and the United Way.
About Western Products and Affiliated Companies
Western Products was established in 1948 in Fargo, North Dakota to provide innovative home exterior improvements with a strong commitment to quality and customer service. Headquartered in Fargo, North Dakota, Western Products has locations in Bismarck, North Dakota and St. Cloud, Minnesota. Beginning in home improvement, the company has grown to include affiliate companies in the areas of franchising, manufacturing, development and property management, commercial real estate, and other areas related to home improvement. More information available at: www.westernproducts.com and on Facebook at www.facebook.com/westernproducts