Bamboo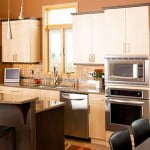 Below are the Crystal Cabinets Bamboo finishes.
Depending on your monitor settings, color representation of our Crystal Cabinets Bamboo finishes may vary. Stop in at the Western Products showroom, on 45th Street in Fargo, for more accurate samples. We have many cabinet style setups there, additionally. Because of this, you can get a good idea of what looks we can achieve. We know we'll be able to help you find the perfect style, finish, and also accessories. We will take your cabinet remodeling dreams and make them into realities
The major benefit to working with Western Products on your next cabinet remodel is that we prioritize customer experience. At every step of the process, we have specially-trained employees who are ready to answer all of your questions and help you with what you need so that you can experience a positive remodel from start to finish. We also have a full design team who will work with you to create a remodeling plan that makes the most of your space, visually and practically. They will help you select the cabinet style, material, finish, and accessories additionally, that will help you achieve your dream look. We also have installers who will install your new cabinets, with their Crystal Cabinets Bamboo finishes, with the utmost care.




















---
Finish Collections
Click an image below to view available finishes for the collection.