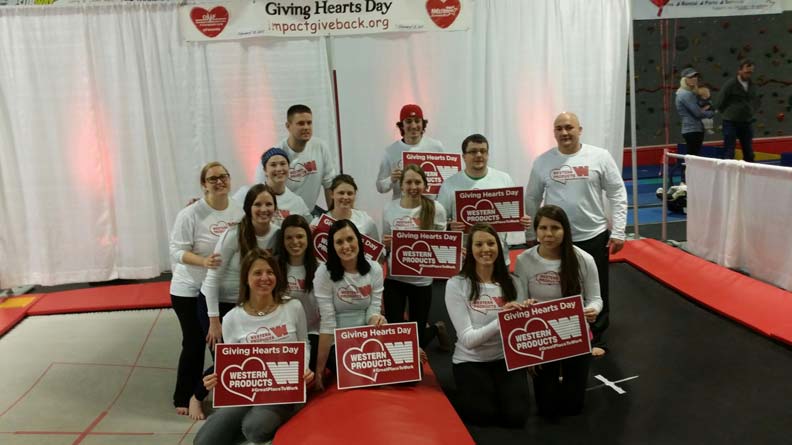 Employees participated in TNT Kid Fitness and Gymnastics Trampoline-a-thon
Fargo, ND—Feb 16, 2015—Employees of Western Products and Affiliates were "flipping" over the outpouring of support during February's Giving Hearts Day, an online fundraising event organized and sponsored by Dakota Medical Foundation. Western Products volunteered to jump on trampolines at TNT Kids Fitness and Gymnastics to help raise awareness for the annual Giving Hearts Day donation event that raises money for about 300 charities in the Fargo-Moorhead area.
Wearing matching shirts with hearts and the hashtag #GreatPlaceToWork, it's clear to see the group from Western Products cares about giving back to their community, as well as having a good time together. The Trampoline-a-thon live streamed to the internet and non-jumpers at the office cheered on their co-workers. TNT Kid's Fitness and Gymnastics attributes their successful fundraiser to the combination of the community's involvement and the fun that jumping on a large trampoline brings.
Nearly $7 million was raised in just one day for causes like TNT who are looking to use the funds for modifications and equipment for children of all ages and abilities. Raising money to support local causes is a cornerstone of Western Products and Affiliated Companies' culture, which places great importance on giving back to the communities that support them.
WDAY captured footage of Western Products and Affiliates employees while taping the Giving Hearts Day news story, and the video can be viewed online at: http://www.wday.com/video/4049931476001
About Western Products and Affiliated Companies
Western Products was established in 1948 to provide innovative home exterior improvements with a strong commitment to quality and customer service. Headquartered in Fargo, North Dakota, Western Products has locations in Bismarck, North Dakota, St. Cloud, Minnesota and Sioux Falls, South Dakota. The company started in home improvement, and has grown to include affiliate companies in franchising, manufacturing, development, property management, commercial real estate and other areas related to home improvement. More information is available at: www.westernproducts.com and on Facebook at www.facebook.com/westernproducts