Why Seamless Siding?


United States Seamless® steel siding by Western Products offers homeowners more options than ever before in siding profiles, colors and accessories.
Western Products takes the home exterior remodeling industry to a new level. Our siding is different from others, because it's seamless and also made from steel. Siding products from other companies need to be constantly overlapped or shoved together every 12 feet or less to reach the length of your home. Unfortunately, this creates a pattern of ugly splices and joints; the average home has more than 130 splices! However, With United States Seamless' steel siding, we eliminate those unsightly splices and joints, no matter your home's dimensions. That's why we say, "We'll go to ANY length to beautify your home." We are even in the Guinness Book of World Records for the world's longest continuous piece of seamless steel siding! It measured 239 feet, 9 inches!
Some homeowners say the way we install seamless siding on a house is "magical." You can see it happen right before your eyes. Each piece of seamless siding is custom-fit to the exact measurements of your home. And, with year-round installation capabilities, our portable siding machines will manufacture each and every panel at your home, when you need them. No matter what colors or profiles you select, they will be custom-made for you. Increasing your curb appeal and protecting your home is simple. All you need to do is trust Western Products for all your seamless siding needs. You are going to love what Western Products can do for you!
Save Time and Money
Maintenance-free seamless siding does more than save time. It also saves money. With seamless steel siding from Western Products, there's no need for priming, caulking, painting, staining, sealing or patching to maintain the exterior appearance of your home. Your siding will look freshly painted for years to come. And, you get to enjoy little to no maintenance. Time and money once spent maintaining and repairing siding can be spent enjoying life.
Strongest Warranty
When investing in your home's exterior with products from Western Products, you can have confidence. This confidence is knowing that your home is protected by a limited lifetime warranty against defects. You will also be backed by our unprecedented limited lifetime warranty against fading and chalking. Our warranties are the strongest in the industry. Because of this, you can have peace of mind. Your new seamless exterior will retain its beautiful and also maintenance-free appearance, year after year.
*Please see our aluminum and steel warranties for complete warranty duration, procedures, limitations and exclusions.
Beauty. Durability. Sustainability.
Combine the durability of steel with our seamless technology, and you have a product that makes your home look great. There are many important attributes of steel siding that have driven its success. And the maintenance freedom it delivers is an attribute homeowners value greatly. Steel siding requires virtually no maintenance. You eliminate most of your annual exterior work. This means you only have to rinse your exterior with a garden hose to keep it looking brand new.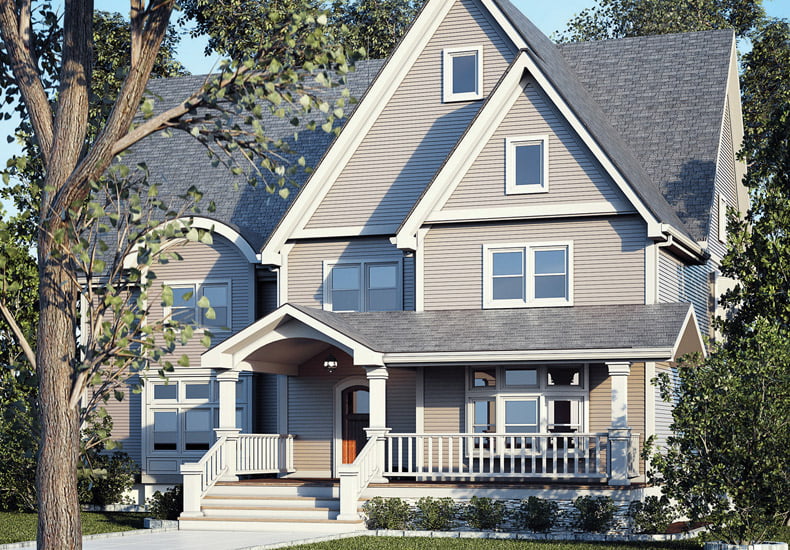 Seamless siding substantially reduces moisture intrusion, which stops structural deterioration. Because there are no seams or joints to penetrate in seamless siding, our product stops damages before they start. Western Products projects also use an approved underlayment and are installed by trained professionals. With maintenance-free exteriors from Western Products, you'll get a beautiful home exterior look without the effort.
Why America Sides with Seamless Steel Siding
Your home is one of your biggest investments. It's a place of safety and security for you and your family. That's why you should protect and trust your home to Western Products. We are homeowners, like you, and we know how important it is to keep a home looking beautiful. With a wide selection of siding profiles, colors and accessories, it's no wonder we are the #1 choice in American-made seamless steel siding and accessories!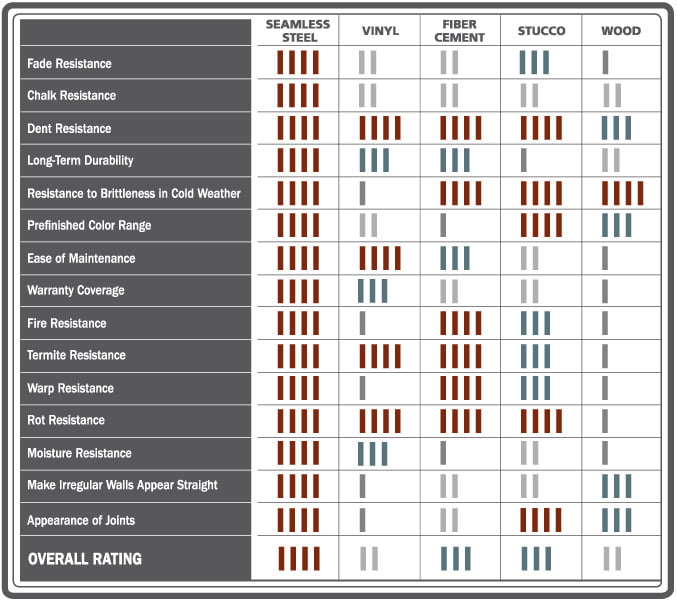 Get a Free Quote on Seamless Steel Siding in Fargo, ND
Discover how a commitment to quality products, professional installation and exceptional service has made Western Products the most trusted name for seamless steel siding in the Upper Midwest for more than 70 years. Schedule a complimentary discussion with a free estimate on seamless steel siding in Fargo, ND, by calling Western Products today at 1-800-743-3632.