The Beauty of Stone. The Simplicity of Siding.

Versetta Stone by Western Products brings the timeless beauty of traditional stone to your home's exterior. Invite your guests into a stunning and welcoming space you believed was possible. Western Products' line of veneer panel stone siding makes it easy and cost effective to give your home the look you've been dreaming of. This process opens up a world of design options, allowing the natural look of stone in unexpected places. The possibilities are endless!
Be the Envy of Your Friends
Versetta Stone is versatile working well for both new construction and remodeling. Versetta Stone by Western Products adds luxurious detail that replicates the beauty and craftsmanship of authentic stone masonry. Adding exterior stone walls that compliment your siding or enhancing curb appeal around your entry door are just a couple of the many possibilities. With our easy method of installation, the look you've wanted in stone and mortar siding is within reach!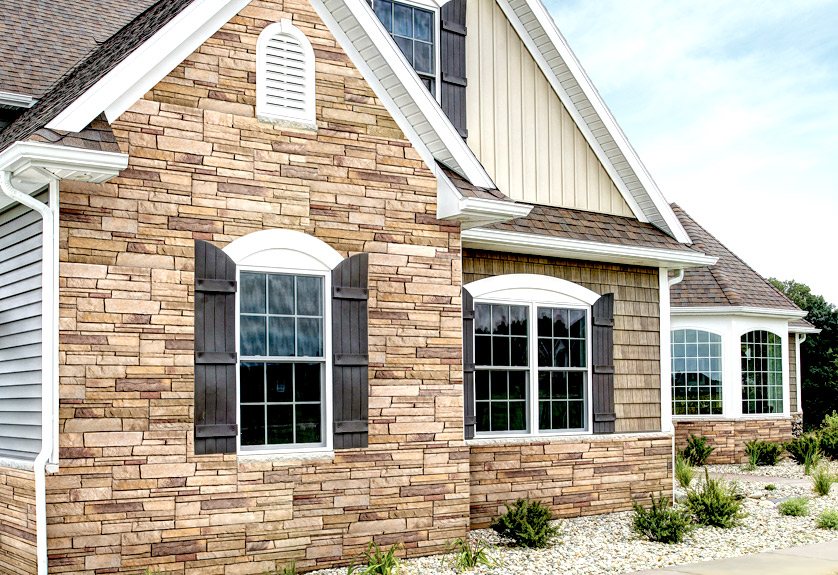 Many Colors and Styles
You can mix and match Versetta Stone's many style and color options with other Western Products' exterior products such as siding and entry doors to create a signature look that will make your home stand out.
A 'Sit Back and Relax' Process
Western Products continues to deliver our high 'start-to-finish' standard of excellence with Versetta Stone. Built to look great in record time and last a lifetime, Versetta Stone withstands winds up to 110mph, passes freeze/thaw testing and is fire resistant. With no need to paint, coat or seal, it is backed by a 50-year limited warranty.
With Versetta Stone's panelized construction of lightweight aggregate materials, our experienced and knowledgeable experts at Western Products will get the job done quickly and efficiently. Let us add the perfect stone wall, column or accent that complements your home's exterior siding, door and roofing. The possibilities are endless. Let's talk today!

Get a Free Quote on Versetta Stone in Fargo, ND
Discover how a commitment to quality products, professional installation and exceptional service has made Western Products the most trusted name for your siding needs in the Upper Midwest since 1948. We make it easy to restore, protect and preserve your home for a lifetime. Schedule a complimentary discussion with a free estimate in Fargo, ND, by calling Western Products today at 800-743-3632 or simply fill out our convenient online request form.