Start to Finish Installation

The Western Products siding process starts with our consultative sales approach. Because of this, our experienced home improvement experts will work with you to find solutions that will enhance your home's siding strength, energy efficiency and curb appeal.
We manufacture our United States Seamless steel siding on location. To do this, we have trailers that contain our innovative roll-forming equipment and tools. Additionally, our professional installation teams work year-round to install seamless siding.  Consequently, we'll be there if it's winter, spring, summer or fall; we heat our trailers, so the Upper-Midwestern chill is not an issue. We pride ourselves on our superior craft and service.
Certified Siding Installers
Working with Western Products means you'll have peace of mind.  We have high standards for installation and require certification courses for installers. That's why our installers are experienced and understand the many critical steps involved in installing your new siding properly. Further, we offer intense, hands-on training and certification courses to ensure that they are current on installation methods and techniques.
General Siding Installation Safety
Safety is something Western Products takes seriously. We will keep and maintain a safe and clean work site. We take precautions to preserve your landscaping, secure equipment when not in use and use magnets to keep landscaping free of debris. Further, our equipment and machines are certified and our installation crews go through regularly scheduled safety training.
Not only will we provide a safe work environment for our employees, but we will also ensure our customers' safety. We follow EPA regulations on Lead Safe Renovations. We also train our dealers to follow the EPA's guidelines.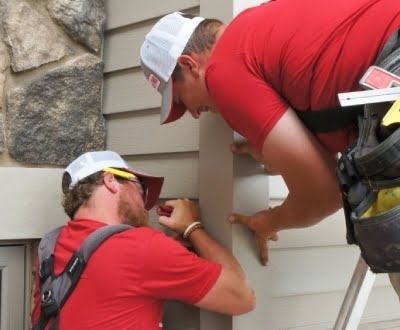 Licensed, Insured and Bonded
Your coverage doesn't end with our warranties. Our dealers are licensed, insured and bonded. They are in good standing with local communities and highly rated by the Better Business Bureau.
Get a Free Quote on Seamless Steel Siding in Fargo, ND
Discover how a commitment to quality products, professional installation and exceptional service has made Western Products the most trusted name for seamless steel siding in the Upper Midwest for more than 70 years. Schedule a complimentary discussion with a free estimate on seamless steel siding in Fargo, ND, by calling Western Products today at 1-800-743-3632.