Choose Western Products for Quality Roofing Choices from Bismarck to Fargo and Beyond!

At Western Products, we offer a wide range of quality roofing choices. This includes asphalt shingle roofing, metal roofing and specialty roofing. When you turn to us for roofing in Fargo or any of the surrounding areas, our roofing team will work with you. Because of this, you'll be able to choose the materials that best fit your home, in order to maintain and enhance your home's curb appeal. Each roofing type we install is produced by the leading manufacturers in the industry. In addition, they utilize advanced materials and methods in order to ensure strength, weatherability and longevity.
Asphalt Shingle
Western Products provides an array of quality shingles to fit the architectural style of any home. Whether you prefer the rustic charm of cedar shingles, the streamlined look of asphalt shingles or the casual elegance of slate roofing, the roofing division of Western Products is here to help.
You will find only the highest-quality roofing products at Western Products. We only choose products that are tested and proven to endure the harshest of elements and withstand the test of time. We also work closely with the following manufacturers to ensure our homeowners have the quality and style of shingle
Western Products is a certified CertainTeed SELECT ShingleMaster™ Roofing Contractor. This means you can be sure you are getting the highest level of professionalism and also quality for roofing in Upper Midwest.
Metal Roofing
The best metal roofs start with durability. Typical service life for a properly maintained metal roof can last for more than 50 years. This far exceeds other roofing materials. Because of this, your home can have more than half a century of reliable protection. This includes protection against the rain, snow, ice, hail and wind that we experience across the Upper Midwest.
The metal roofing systems installed by Western Products are wind-rated up to 125 mph. Because of this, you know they're tough. Metal is also highly fire resistant, impervious to pests, mold and mildew and stands up to the toughest weather. In addition, the reflective nature of metal helps to reduce interior temperatures, helping reduce energy use.
But, metal roofing is not just durable. It's aesthetically appealing as well, providing homeowners with the choice of different profiles and numerous color options.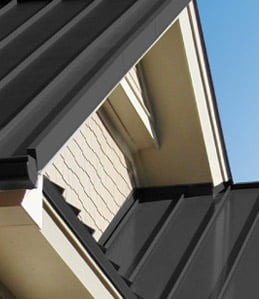 Seamless Metal
Seamless metal roofing is not only durable, it is aesthetically appealing, providing homeowners with the choice of different profiles and color options.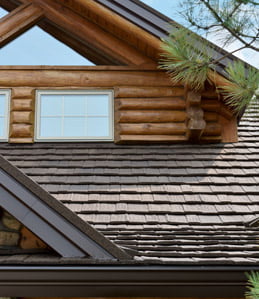 Stone-Coated Metal Shake
This roofing type outperforms natural cedar shakes, composite shakes and lightweight, painted metal shakes.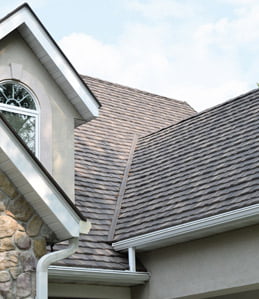 Stone-Coated Metal Shingle
If you're looking for roof shingles with a clean look and unparalleled durability, stone-coated metal shingle roof panels offer all this, plus much more!
Specialty Quality Roofing Choices
We are the region's premier specialty roofers for slate, copper, cedar and more. Our high-end, specialty roofing can withstand harsh and damaging weather. In addition, these roofs are fire-rated Class 4 roofs, which may qualify you for insurance premium deductions.
Industry-Leading Warranties
As a fully certified CertainTeed Select ShingleMaster, we are the only company in this area that can offer CertainTeed's SureStart PLUS 5-star warranty on an Integrity Roof System. This warranty will protect your investment for years to come, and Western Products is proud to make this coverage available to our customers.
Get a Free Quote on Roofing Today
Discover how a commitment to quality products, professional installation and exceptional service has made Western Products the most trusted name for asphalt and metal roofing in the Upper Midwest for more than 70 years. Schedule a complimentary discussion with a free estimate today. We service Fargo, Bismarck, Jamestown, Minot, Dickinson and surrounding areas in North Dakota. As well as, Moorhead, Detroit Lakes, Alexandria, Park Rapids and surrounding areas in Minnesota. All you have to do is simply fill out our convenient online request form below!