When moving into a new home, it is necessary to love every room! To do this for the homeowners, the Western Products Design Team mirrored the kitchen with the contemporary design of the rest of the home. The finished kitchen design is a modern, eco-friendly oasis.
Combining Contemporary and Eco-Friendly Into One Design
While this space highlights many contemporary design elements, the eco-friendly materials make this space truly impressive. The cabinets are constructed of Lyptus, a durable hybrid of two species of Eucalyptus wood. Lyptus wood is an eco-friendly alternative to more traditional wood choices, such as Mahogany. The Design Team used a Blackstone stain to complement the color palette of the entire space.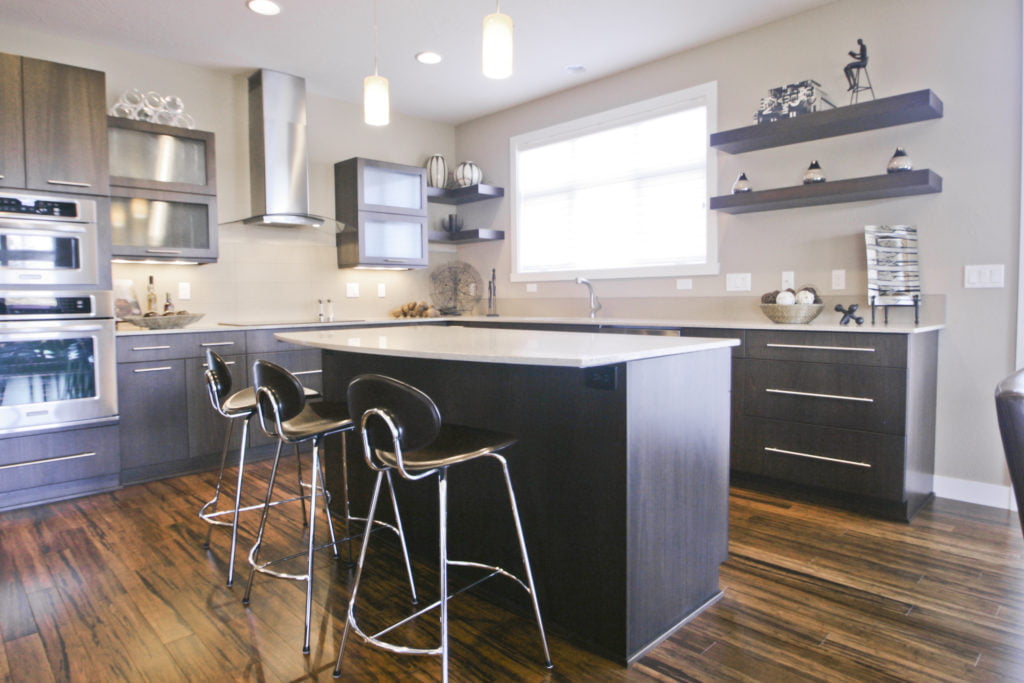 Using Eco-Friendly Materials
The countertops feature eco-friendly materials, as well. The Silestone slab comes from a collection made from recycled materials. Contrasting the dark-tone cabinets, the white counter elevates its presence by warming the atmosphere and lightening the space.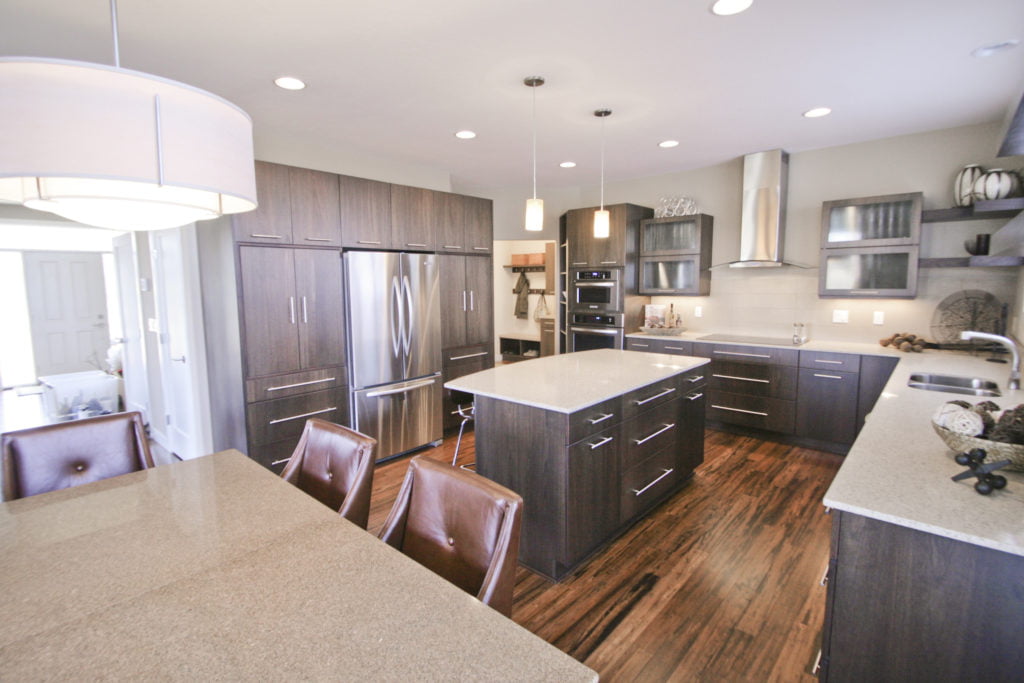 With the addition of these environmentally friendly materials, the kitchen takes on a character of its own. However, this space wouldn't be complete without an array of custom features. Throughout the kitchen, custom pieces of woodwork appear to complement the contemporary style. The team installed custom floating shelves in lieu of more cabinets to add a smooth and clean flow. A coffee and beverage station sits in side the pantry wall cabinets, an important addition for the homeowners. Together, all of these custom elements create a stunning kitchen that is the contemporary vision the homeowners were dreaming of!
At Western Product's Interior Design Studio, we feature great brands like Crystal Cabinets, Hanstone, Silestone, Cambria, Q-Stone, Corian, Viatera, Hunter Douglas and much more. Our renowned designers, along with our entire design and install team, look forward to the opportunity to work with you on your new home renovation project.
We offer full-service design and selection services from cabinetry, counter and hardware selection to cabinet accessory items, bar stools, paint selections, window treatments and more. Our goal is to make your kitchen, bath or any other room remodel satisfying from the moment you meet with our talented design team to the final walk-through when you get to enjoy your home's new function and beauty.
Our home improvement experts are committed to helping turn your home renovation dreams into realities! Stop by one of our showroom locations in either Fargo or Bismarck, or give us a call at 800-743-3632 to set up a free in-home consultation or a virtual consultation. We can talk to you no matter where you are through our virtual consultation service.
Share with your friends | Stay tuned for more blog posts