Hot Tubs

No matter what size or shape you're looking for, find the perfect fit for your backyard with a Sundance® Spa from Western Products.
Every Sundance outdoor spa is designed to provide the best hydrotherapy a spa can deliver, with reliable performance and the newest features. At Sundance, quality and value go together.
Looking for a spa specialist to guide you?
See the Sundance spa and hot tubs selection in person or ask for us to send you a full-color brochure or DVD packed with ideas and information to answer your Sundance hydrotherapy spa questions.
The Sundance Difference
The Sundance difference means you will be satisfied with your hot tub in every way. We care about making your life easier with low-maintenance, technologically advanced, beautifully designed and energy-efficient spas.
Sundance Spas has been setting the industry standard in hot tub design and engineering for more than 30 years!
Water Quality
The MicroClean filter cartridge is the first FDA-compliant and NSF-certified filter within the hot tub industry. The MicroClean water purification system featured on 880 and 780 Series spas surpasses all others for ensuring pure, clear water with low maintenance and reduced chemical usage. The system does this by combining efficient, effective filtering, water circulation and water skimming processes. Both the MicroClean Plus filter in 880 Series spas and the MicroClean filter in 780 Series spas employ technology similar to that used in home drinking water filters.
Superior Manufacturing
As the largest spa manufacturer in the world, we are committed to building superior quality spas and utilizing the latest technology and environmentally conscious practices. Sundance builds systems that power the jet action, heating, water purification and other functions to allow robust and efficient operation. Your Sundance Spa's model can be expected to perform beautifully for years to come.

Advanced Technology
You know how important it is to choose a spa that is made of the highest-quality components, designed and manufactured to exacting standards. Sundance delivers the quality you expect, plus convenient and energy-efficient features.


Energy Efficiency
Sundance manufactures high-performance hot tubs that are engineered to run efficiently for years. We build systems and components that maintain thermal energy. Superior heat retention starts with our proprietary Rigid Bond shell construction. Its benefits are enhanced by the polyurethane foam insulation that surrounds the shell and fills the spa cabinet. A thick, insulating spa cover with a two pound density foam core adds to the heat retention properties.
ISO Certification
Sundance Spas was the first spa manufacturer to receive ISO 9001 CERTIFICATION, the most comprehensive set of quality assurance standards used by 90 countries. ISO 9001 applies to the design, development, manufacturing, installation and servicing of products. Our manufacturing and quality processes are audited every 90 days to maintain this certification.

880 Series
The 880 Series luxury hot tubs are superior to any others in terms of design and performance. These are the luxury spas that are perfect when planning your dream backyard. Stylish, technologically advanced and rich with features, each 880 Series luxury hot tub takes the perfect spa to a new level.
From the backlit AquaTerrace waterfall to the MicroClean water purification system, a Sundance 880 Series spa comes equipped with only the best features.
Our 880 Series spas lead the luxury hot tub industry. From the mighty Maxxus™ to the fully loaded Marin™, each of the 880 Series spas are uniquely equipped to deliver the healthy benefits of hydrotherapy in an entertaining package.
Maxxus
Seats: 6 Adults
Aspen
Seats: 7-8 Adults
Optima
Seats: 6-7 Adults
Cameo
Seats: 5-6 Adults
Majesta
Seats: 5-6 Adults
Altamar
Seats: 5-6 Adults
Marin
Seats: 4-5 Adults
Capri
Seats: 2-3 Adults

780 Series
Create your personal outdoor oasis with a 780 Series hot tub by Sundance Spas. Contemporary in design and function, these spas are built in the best Sundance tradition.
Ideal for relaxing, reconnecting or recovering from stress and strain, a 780 Series spa also enhances your backyard with the sound and sight of water and light.
Sundance knows what you like; a spa like the 780 Series is reliable and easy to care for, and they're perfect for everyday use. Each spa is built with features that will impress your family and friends.
Features of the Sundance 780 Series include: patented Fluidix hydrotherapy jets, MicroClean filtration, and multicolor SunRay LED lighting with illuminated massage controls and air selectors for easy adjustments, even after dusk.
Chelsee
Seats: 6-7 Adults
Hamilton
Seats: 5-6 Adults
Certa
Seats: 5-6 Adults
Montclair
Seats: 4 Adults
Dover
Seats: 2-3 Adults

680 Series
Take a moment to immerse in total relaxation. Whether you want peaceful time alone or the company of friends and family, find time to let go of stress and enjoy simply feeling good. That's what happens when a 680 Series Sundance spa becomes a part of your life.
Every model delivers the combination of heat, buoyancy and massage that is known to help you feel better in so many ways: classic Sundance hot tub hydrotherapy.
Manufactured by the company with the most certifications, awards and honors in the industry, the 680 Series spas by Sundance offer more custom options and come in more shapes and sizes than you will find in almost any other spa line. Thirty years of Sundance experience have gone into the design and production of the 680 Series spas – your assurance of the best quality and reliability.
Hartford Seats: 6-7 Adults
Hawthorne Seats: 5-6 Adults
Edison™ Seats: 6 Adults
Peyton Seats: 5-6 Adults
Denali Seats: 4 Adults
Tacoma Seats: 2 Adults
Health Benefits
More than a feeling: quality hot tub therapy heals. A warm water massage can be a restorative, therapeutic experience. Since ancient times, people around the world have recognized the healing properties of hot water. Today, the best hot tubs, like those made by Sundance, can promote health and wellness with hydrotherapy.
Sit in a Sundance, adjust the jet flow and feel amazing results: a sense of calm and comfort, pain relief, rejuvenation and increased energy.
With a combination of high-performance jets and advanced seat designs, Sundance moves water in new ways, delivering positive benefits including: less stress, better sleep, relief from muscle soreness and fewer symptoms of arthritis and back pain. Hot tub therapy works.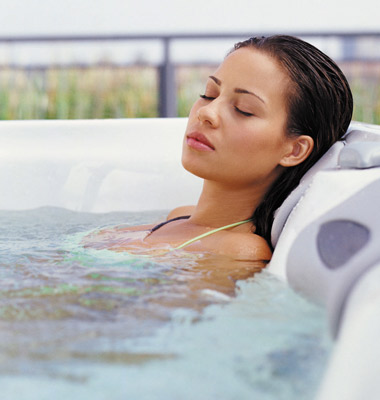 Accessories

The best hot tub accessories are ones that go perfectly with your spa. You can get steps, bars, stools, planters, gazebos and pergolas that match the cabinetry on your Sundance hot tub. Our spa accessory line also includes specially sized steps and surrounds for large or round spas.
Find exactly what you need to complete your portable hot tub and backyard experience with Sundance accessory products.
Among the favorite hot tub accessories is the weatherproof SunBriteTV, compatible with cable, satellite, DVD players and computers. SunScents aromatherapy beads are another popular spa accessory. Of course, Sundance offers a full line of cleaners, ozone systems and filters, as well as hot tub cover lifters and accessories – everything to make your spa life easy and fun. Stop by to see all the accessories we have in stock, like the ever-popular SunScents, or place an order on a spa hugging table.
FAQ
Find answers to common questions about hot tubs from Western Products and Sundance Spas.
What should I consider before buying?
You may consider testing a spa before purchasing by getting into a spa with water in it. Many reputable spa dealers maintain filled demonstration models just for this purpose. Here is what you should look for. First, verify that the seats provide comfortable support. You do not want to have to scoot down in the spa like you do in a bathtub. While sitting in any seat, the water should reach shoulder level. If it does not, you will not get full hydro-therapeutic value. Then, stay in the spa with the jets on for at least 15 minutes. At the end of that time you will know whether the seating and jet arrangements are comfortable.
How much should I spend?
Quality spas are available in a wide range of prices. Just like cars, spa prices reflect features, materials and workmanship. Of course, we hope that as you are shopping you will consider a Sundance spa. However, no matter which brand of spa you finally choose, we want you to be an informed consumer and find the right spa for your needs.
What about the warranty?
Here are a few simple rules to keep in mind: A product warranty is a performance and reliability agreement between you and the manufacturer. Avoid spa dealers who add prorated and deductible provisions. Make sure you read the manufacturer's warranty before buying and compare coverage with other spas you are considering.
Is it installed inside or outside?
A spa can be installed indoors or outdoors, although over 90%, including those in cold weather climates, are installed outdoors. The two main considerations for installing a spa indoors are the following. Will it fit through the door? Is the structural strength of the flooring adequate? (A typical three-person spa weighs approximately 2,500 lbs/1,150 kg when filled.)
Do I need to install plumbing?
No. All above-ground portable spas are filled with water using a garden hose.
How do I clean the water?
Proper water maintenance is vital to enjoyment of your spa. While some salespeople may try to convince you that they can sell you a "chemical-free" spa, professional retailers and manufacturers most often recommend the use of ozone purification in conjunction with sanitizers developed specifically for spas. Maintenance procedures are not difficult, and knowledgeable retailers will provide the start-up kit and instructions you need.
Get a Free Quote on Hot Tubs in Fargo, ND
Discover how a commitment to quality products, professional installation and exceptional service has made Western Products the most trusted name for hot tubs in the Upper Midwest for more than 70 years. Schedule a complimentary discussion with a free estimate on hot tubs in Fargo, ND, by calling Western Products today at 800-743-3632. Or you can simply fill out our convenient online request form.
Western Products
Because Your Home Matters!
800-743-3632