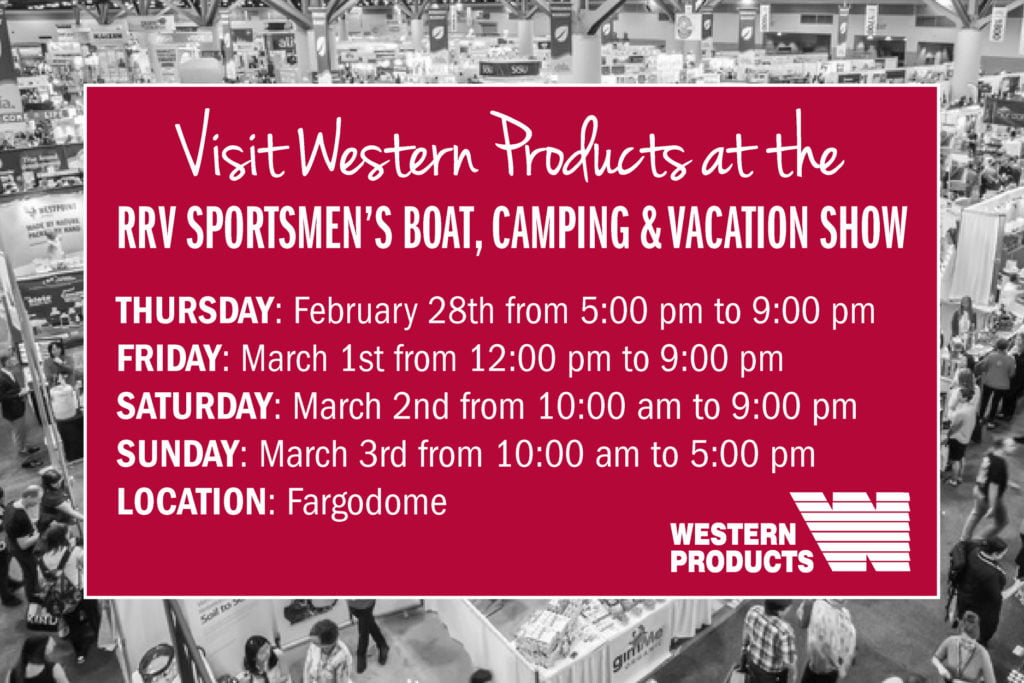 Make the coming summer full of fun and relaxation, and finish all the home renovation projects you've been putting off during the winter! Visit Western Products at the Red River Valley Sportsmen's Boat, Camping and Vacation Show this weekend (Feb. 28th-Mar. 3rd) to see how we can help.
This Fargodome show offers everything you could possibly need to thrive once all the snow has melted and the days start to get warm again. From the latest fishing boats and campers/trailers to experts in cabin and summer home renovation, this event has it all. The RRV Sportsmen's Boat, Camping and Vacation Show is the biggest sports show in all of North Dakota and Northern Minnesota!
This event runs over four days:
5:00 p.m. to 9:00 p.m. on Thursday, Feb. 28
12:00 p.m. to 9:00 p.m. on Friday, Mar. 1
10:00 a.m. to 9:00 p.m. on Saturday, Mar. 2, and
10:00 a.m. to 5:00 p.m. on Sunday, Mar. 3
Western Products will be there all four days in booth #C63. We'll share our passion for helping customers enjoy their home improvement experience from start to finish. Our dedicated staff will be there to answer questions. Additionally, you can visit with us to learn how we've become the Upper-Midwest's first choice for roofing, siding, window replacement, gutters, doors, cabinets and much more.
Meet us there to plan your picture-perfect summer getaway!
Let us help!
Our home improvement experts are looking forward to working with you! Give us a call at (701)-293-5310, stop in our showroom, or fill out our online request form to set up your free in-home consultation.
Share with your friends | Stay tuned for more blog posts