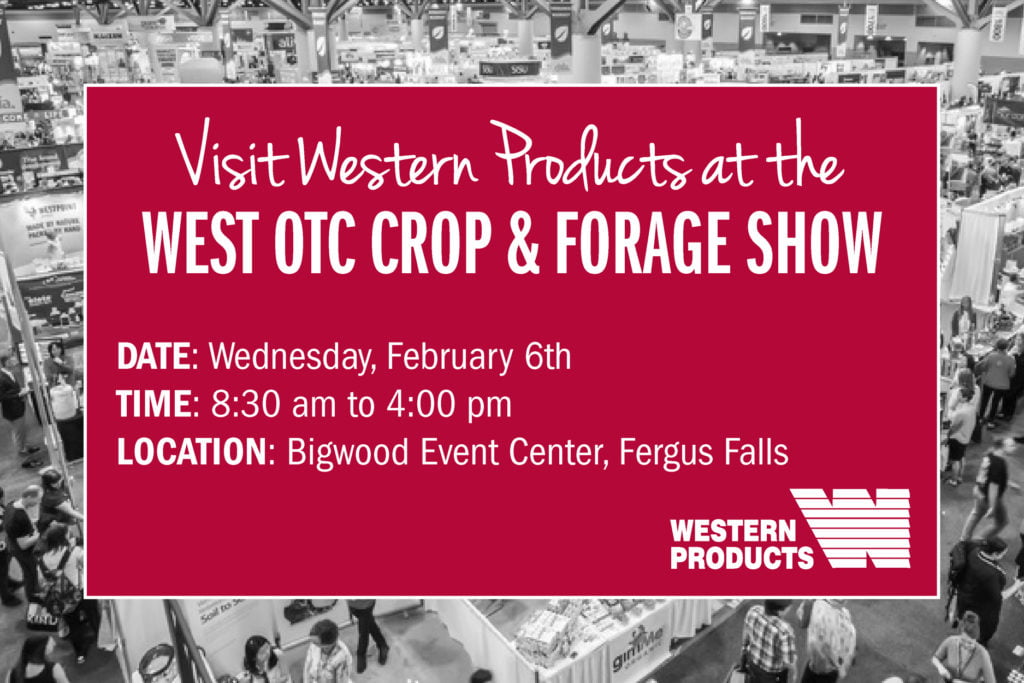 West Otter Tail County Crop and Forage Show 2019
If you're near Fergus Falls this Wednesday, stop by Western Products' booth at the West Otter Tail County Crop and Forage Show. When you visit the show, you'll get the opportunity to chat with over 80 exhibitors from Minnesota's most important industries. Western Products is pleased to be featured among them.
At the West Otter Tail County Crop and Forage Show, you'll get to enjoy presentations from business professionals, educational programs and skill-testing contests. The show is sure to have something for everyone, with hundreds of people attending every year. Western Products would like to thank the West Otter Tail Crop Improvement Association and the University of Minnesota Extension for organizing and presenting this community-enriching event.
The Otter Tail County Crop and Forage Expo will run from 8:30 a.m. to 4:00 p.m. in the Bigwood Event Center. Admission is $5 and comes with a complimentary lunch at Z103 Bar & Grill.
Our informed staff will be there for the full event, ready to meet with you and discuss what Western Products can do for you. We're the region's first choice for roofing, siding, window replacement, gutters, doors, cabinets and much more. Visit us at our booth to see the Western Products difference!
Let us help!
Our home improvement experts are looking forward to working with you! Give us a call at (701)-293-5310, stop in our showroom, or fill out our online request form to set up your free in-home consultation.
Share with your friends | Stay tuned for more blog posts