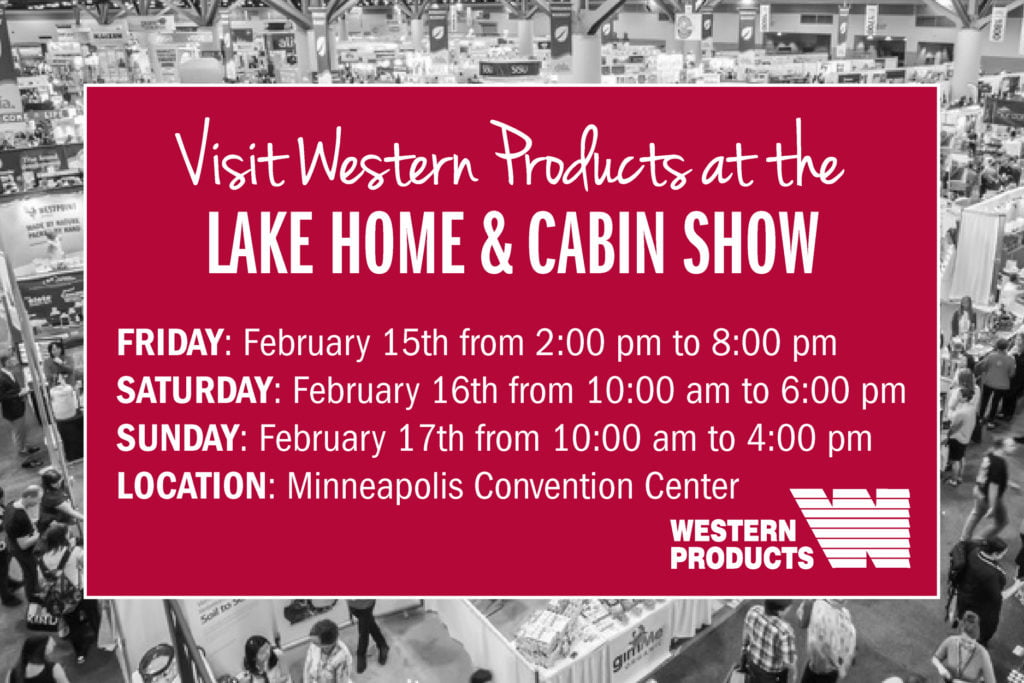 Lake Home and Cabin Show 2019
Picture this: It's a calm Saturday morning in June. You're sitting on the dock at the lake, coffee in hand, watching the water lap at the shore.As the summer sun rises in the sky, you realize that winter is only a distant memory and that you get to enjoy the entire day at your beautiful lake home. Western Products wants to help you make this dream come true by meeting you this weekend (Feb 15-17) at the Minneapolis Lake Home and Cabin Show.
At this event in the Minneapolis Convention Center, you'll get to meet with the best builders, remodelers, lake shore landscapers and sporting outfitters in business so that you can make your lake home or cabin the envy of your shore. Western Products will be right there with them, showing how we've become the Upper Midwest's first choice for home remodeling and improvements. We specialize in quality products, professional installation and can help you revitalize your lake property so that it's perfect for when the snow finally melts.
Admission for the Lake Home and Cabin Show is $12 for adults, $5 for children between the ages of five and 15 and free for children under the age of five. Western Products will be at booth #447 from 2:00 p.m. to 8:00p.m. on Friday, 10:00 a.m. to 6:00 p.m. on Saturday and 10:00 a.m. to 4:00 p.m. on Sunday. Our knowledgeable staff would love to chat to you about your renovation ideas so that you can enjoy your lake home or cabin improvement experience from start to finish.
We hope to see you there and dream of the perfect lake summer together.
Let us help!
Our home improvement experts are looking forward to working with you! Give us a call at (701)-293-5310, stop in our showroom, or fill out our online request form to set up your free in-home consultation.
Share with your friends | Stay tuned for more blog posts