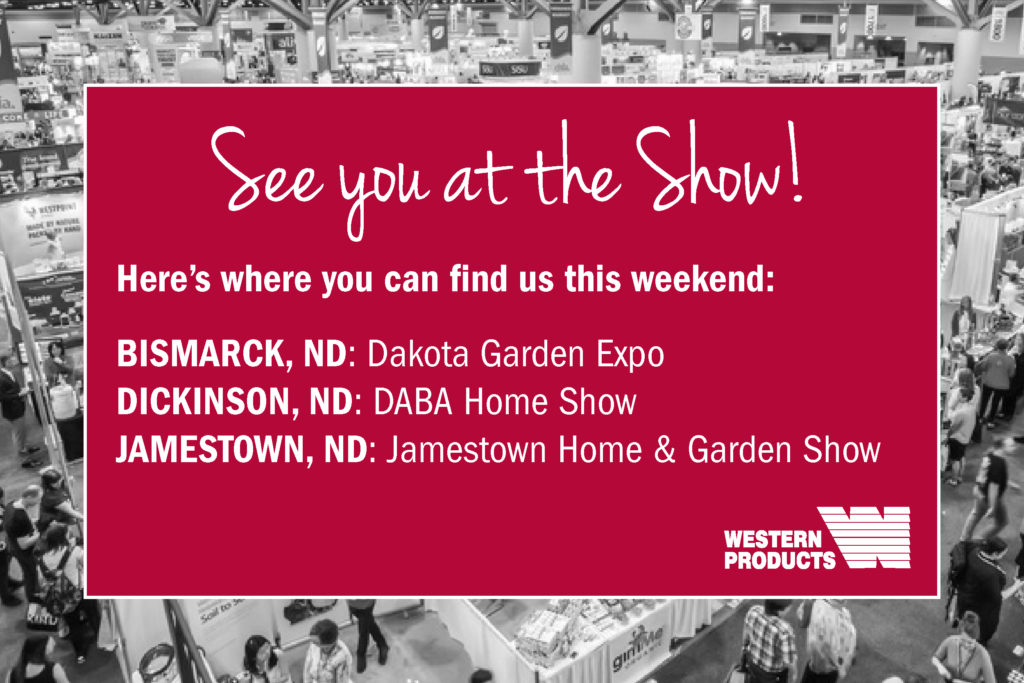 Though it felt like it might never come, spring is finally here! There is no better way to shake off the winter blues than to get out and start planning for the warmer days ahead. If you are thinking about starting a home improvement project this summer, we'd love to chat with you. The experts at Western Products can help make your renovation dreams come true!
Western Products will be visiting several tradeshows in North Dakota this weekend. We're become the Upper Midwest's first choice for home remodeling and improvements, and we're ready to show you why. We specialize in quality products and professional installation. We would be glad to help you revitalize your home so that it's picture perfect when the snow finally melts.
Here is where you can find us this weekend:
Bismarck, ND: Western Products can help improve your curb appeal with fresh siding, upgraded windows and a new roof. Then, a visit to the Dakota Garden Expo can take your lawn and landscaping to the next level! In addition to nearly 100 vendors, several staff members from NDSU Extension will be on hand offering seminars. At the show, you can learn about native and exotic plants, veggie gardening and lawn maintenance. This show takes place at the Bismarck Event Center on Friday, April 5th and Saturday, April 6th. Visit from 3:00 PM to 8:00pm on Friday and 9:00 AM to 4:00 PM on Saturday. Admission to the show is FREE for kids 12 & under, and $5 for adults; get $2 off if you bring a nonperishable food item!
Dickinson, ND: Whether you are a new homeowner, or someone who has lived in your home for years, there is something for you at the Dickinson Area Builders Association Home Show! Local home improvement professionals will be on hand so you can shop and compare, be inspired and find the resources you need for your next project. This show runs from 10:00 AM to 5:00 PM on Saturday, April 6th and 12 Noon to 5:00 PM on Sunday, April 7th at the West River Ice Center. Admission is FREE for 4 & under, $1 for ages 5-12 and $2 for all others. If you bring two nonperishable food items, you can get in for only $1. And, don't miss out on the door prizes and drawings! Find Western Products' friendly staff at booths #27 & #28.
Jamestown, ND: If you are in the Jamestown area, don't miss the Jamestown Chamber Home & Garden Show! Over 100 local businesses will be on hand to showcase the best products and services available in our region. This FREE event takes place at the Jamestown Civic Center. Doors are open from 9:00 AM to 5:00 PM on Saturday, April 7th, and 12 Noon to 4:00 PM on Sunday, April 8th. Western Products will be located at booths #12 & #23 on the floor of the main arena.
If you see us out on I-94 this weekend, give our hardworking team members a wave!
Let us help!
Our home improvement experts are looking forward to working with you! Give us a call at (701)-293-5310, stop in our showroom, or fill out our online request form to set up your free in-home consultation.
Share with your friends | Stay tuned for more blog posts