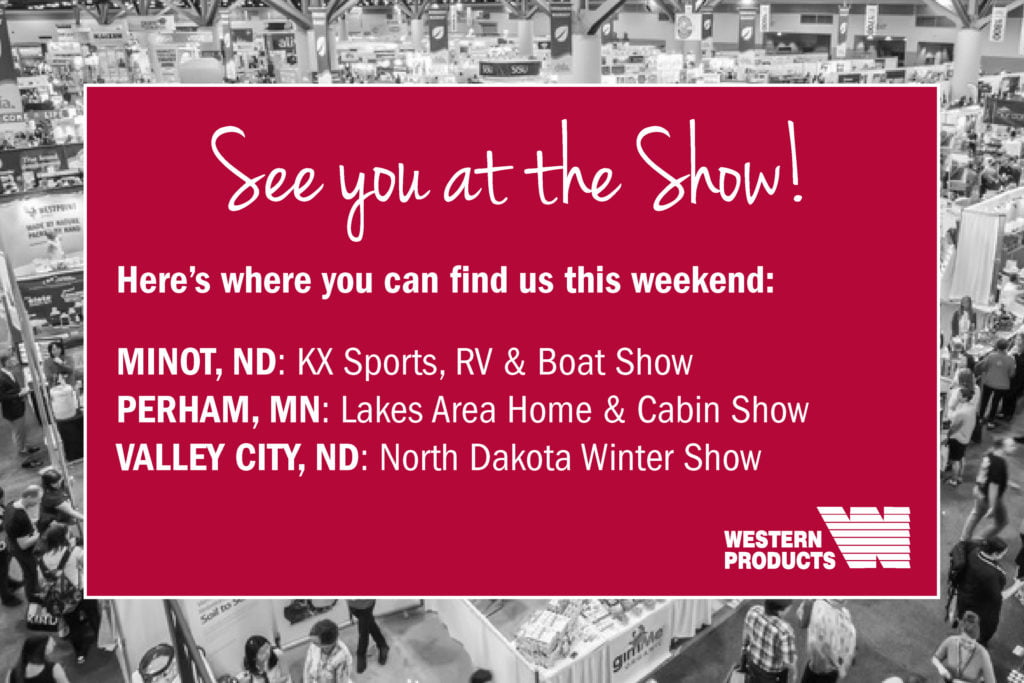 It's tradeshow season and our team is busy traveling throughout Minnesota and the Dakotas. No matter where you are located, Western Products wants to ensure your next home improvement project is as easy and enjoyable as possible. With over 70 years of experience under our tool belts, we know how to deliver on that promise!
This weekend, you can find us at no fewer than three shows! So, whether you are in Minot, Perham or Valley City, our knowledgeable Home Improvement Experts will be glad to chat with you! We're eager to share how our quality products and experienced installers can help with your next home improvement project. We're proud to be the region's first choice for roofing, siding, window replacement, gutters, doors, cabinets and more. We strive to provide a great experience on every job from start to finish. We are looking forward to working with you!
Here is where you can find us this weekend:
Minot, ND: The KX Sports, RV & Boat Show will be taking place at the ND State Fair Center. Find Western Products in booth #23. This show runs for three days: Friday, March 8th from 1:00 PM to 7:00 pm, Saturday, March 9th from 10:00 to 6:00 PM and Sunday, March 10th from 11:00 AM to 4:00 PM. Daily admission is $5 for adults and free for kids ages 17 and under. It's worth mentioning that the world famous water skiing squirrel, Twiggy, will be making several appearances!
Perham, MN: If you are dreaming of summer in lakes country, visit the Lakes Area Home & Cabin Show this weekend! Returning to the Perham Area Community Center again this year, this show runs from 3:00 PM to 8:00 PM on Friday, March 8th and 8:00 AM to 3:00 PM on Saturday, March 9th. We'll be located in booth #47B. Admission and parking are free. And, at the show you can register to win one of several $100 gift cards to local business each day.
Valley City, ND: The 82nd Annual North Dakota Winter Show continues through this weekend. The show began on Tuesday, but there is still lots of fun to be had! Visit the Winter Show Event Center from 10:00 AM to 7:00 PM through Saturday, March 9th, or from 10:00 AM to 5:30 PM on Sunday, March 10th. The Western Products booth is located in the Main Exhibit Building at booth #D102. Parking and door admission are free; check the Winter Show website for special event tickets.
We look forward to seeing you this weekend!
Let us help!
Our home improvement experts are looking forward to working with you! Give us a call at (701)-293-5310, stop in our showroom, or fill out our online request form to set up your free in-home consultation.
Share with your friends | Stay tuned for more blog posts