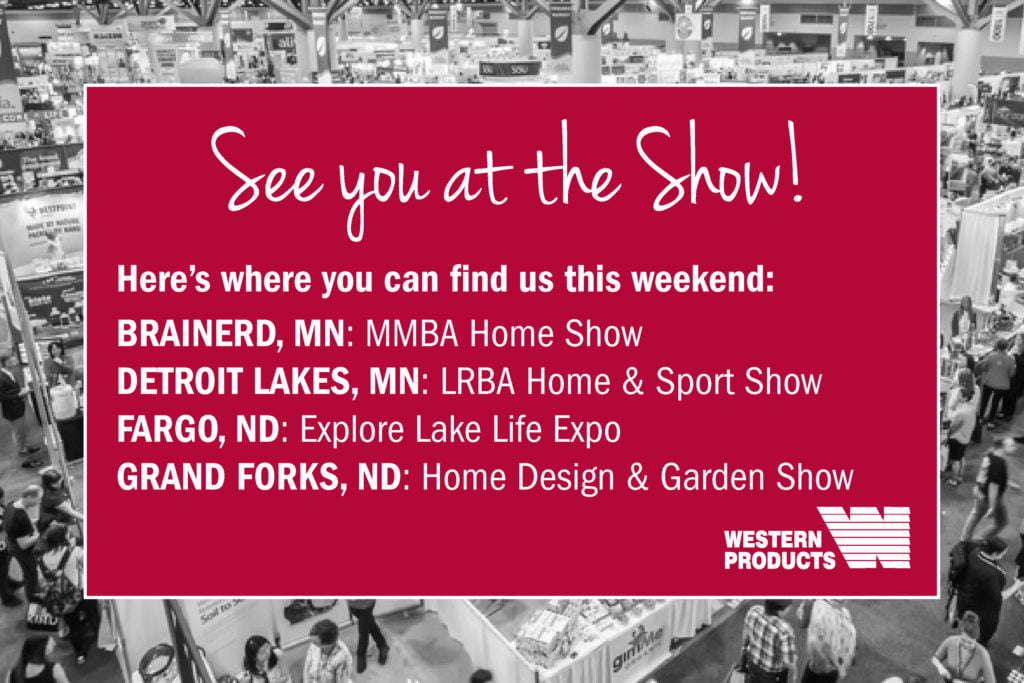 Our teams of Home Improvement Specialists and award-winning craftsmen travel far and wide to ensure that homeowners in the Dakotas and Western Minnesota can experience the quality and professionalism we've honed in over 70 years in business. Western Products is one of the largest home remodeling contractors in the Midwest. However, it is important for us to treat every house we work on like we would our own home. We truly strive to make every job, whether large or small, a wonderful, seamless experience.
It's no wonder that generations of homeowners have chosen Western Products when the time comes for a renovation. Whether you are in need of a new roof or siding, or your kitchen could use some expert attention, we're here for you! Quality products and expert installation have helped us climb to the top of the leaderboard. And, we look forward to the opportunity to work with you on your next project!
This weekend, you can find our friendly Home Improvement Specialists at four local tradeshows. They'll be ready to share their knowledge and expertise! No matter which show you attend, you'll find ideas, inspiration and expert advice to complete your next home project.
Here is where you can find us this weekend:
Brainerd, MN: This weekend, residents of the Brainerd Lakes area can head out to the Essentia Health Sports Center for the MMBA Home & Outdoor Show. The Mid-Minnesota Builders Association is presenting the 38th annual show with all the perennial favorites, plus some new attractions! The show runs from 12 Noon to 7:00 PM on Friday, March 22nd, 9:00 AM to 5:00 PM on Saturday, March 23rd and 10:00 AM to 3:00 PM on Sunday, March 24th. Admission for this show is free for those 15 & under, $5 for everyone else. Attendees are encouraged to bring donations for the Salvation Army Food Shelf. Check out the full 2019 Guidebook here.
Detroit Lakes, MN: The Lake Region Builders Association is hosting their Home & Sport Show at the Kent Freeman Sports Arena this weekend. There's no better place in the lakes are to see the latest products and services, or visit with local experts! When you are building, remodeling or looking for outdoor fun, this show is a great way to kick off spring. Both arenas will be packed full of vendors! The show takes place on Saturday, March 23rd from 9:00 AM to 5:00 PM and Sunday, March 24th from 11:00 AM to 4:00 PM. Admission is $5 for adults and free for kids 18 & under.
Fargo, ND: Discover year-round opportunities to explore, visit and live lake life at the Explore Lake Life Expo this weekend! This event takes place at the Civic Center in downtown Fargo. You'll find lakes area vendors, entertainment and even a bean bag tournament! Visit the show from 3:00 to 8:00 PM on Friday, March 22nd or 10:00 AM to 6:00 PM on Saturday, March 23rd. Whether you are planning to purchase a lake property or just looking for ideas for a weekend getaway, this FREE show will have you wishing summer was already here!
Grand Forks, ND: Presented by the Forx Builders Association, this weekend's 44th annual Home Design & Garden Show . The show takes place over three days. Stop and visit on Friday, March 22nd from 4:00 to 8:00 PM, Saturday, March 23rd from 10:00 AM to 6:00 PM and Sunday, March 24th from 11:00 AM to 4:00 PM. Over 150 vendors will be on hand providing visitors with the best in home design and garden exhibits! Find Western Products at booths #502 & #503.
See you around the area this weekend!
Let us help!
Our home improvement experts are looking forward to working with you! Give us a call at (701)-293-5310, stop in our showroom, or fill out our online request form to set up your free in-home consultation.
Share with your friends | Stay tuned for more blog posts