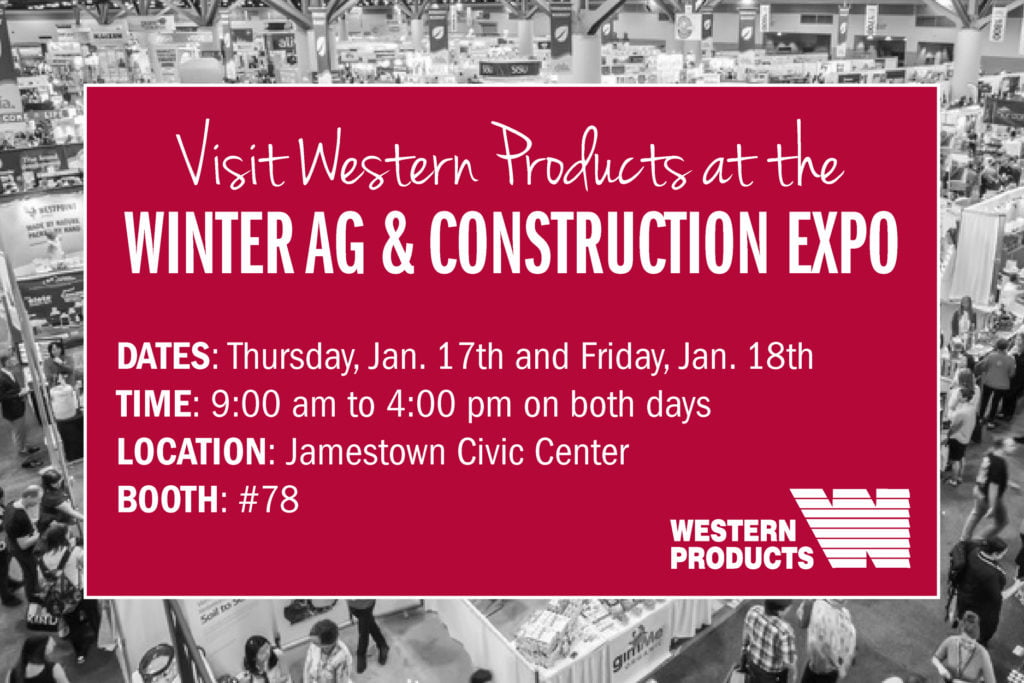 Come to the Winter Ag & Construction Expo and see what Western Products can do for you!
Jamestown's annual Winter Ag & Construction Expo is this Thursday the 17th through Friday the 18th, and Western Products will be there in booth #78! Come visit us both days from 9:00 a.m. to 4:00 p.m. in the Jamestown Civic Center to chat about what Western Products has planned in this exciting new year.
The Winter Ag & Construction Expo features companies and speakers from all across North Dakota who work to make our state's industries more efficient, profitable and safe with each passing season. At Western Products, we're excited to share knowledge from our 70 years in business with you!
Admission is free for the whole expo and there will be a Free Farmers Appreciation Lunch both days, thanks to the sponsorship from Unison Bank. This is the perfect opportunity to visit with dedicated Western Products staff and learn about how we support our community through quality products and quality service. Our Fargo chapter was voted "Best Siding Contractor" by Locals Love Us Fargo just last year, and we'd love to talk with you about how we earned it.
Make sure to also check out the Gackle-Street FFA Pancake Breakfast Fundraiser bright and early on Thursday morning at 7:30 a.m. This fundraiser is an excellent way to invest in the future of your community and connect with the people who make that community great. At Western Products, we're all about giving back to the folks who make North Dakota the prosperous state that it is, and that's exactly the kind of positive attitude you'll get when you visit us in booth #78.
Let us help!
Our home improvement experts are looking forward to working with you! Give us a call at (701)-293-5310, stop in our showroom, or fill out our online request form to set up your free in-home consultation.
Share with your friends | Stay tuned for more blog posts