The Most Durable Roof You Can Buy – Metal Roofing for Fargo, ND Homes & Businesses

Of all the materials and styles of roofs installed by Western Products, none can match the strength, protection and durability of metal roofing. Fargo, ND homeowners and commercial property owners alike can benefit from the lasting value and unparalleled performance provided by a metal roof.
The best metal roof start with durability. Typical service life for a properly maintained metal roof can last for more than 50 years, far exceeding other roofing materials. That means your home can have more than half a century of reliable protection against the rain, snow, ice, hail and wind that we experience across the upper plains region.
The metal roofing systems installed by Western Products are wind-rated up to 125 mph, so you know they are tough. Metal is also highly fire resistant, impervious to pests, mold and mildew and stands up to the toughest weather. The reflective nature of metal helps to reduce interior temperatures, helping reduce energy use.
Metal roofing is not just durable, it is aesthetically appealing as well; providing homeowners with the choice of different profiles and numerous color options.
Seamless Metal Roofing
Western Products is your metal and steel roofing experts. Steel roofing has proven its durability in the past years and is continuing to grow in popularity. Western Products installs seamless metal roofing, which uses a unique locking system that prevents separation of the panels in high wind situations – seamless metal roofs have been known to withstand 90 mph winds.
Metal roofing is not only durable, it is aesthetically appealing, providing homeowners with the choice of different profiles and numerous color options.
Protect your home with a metal roof from the roofing experts at Western Products. The durability and aesthetic appeal will provide you with a roof that will last decades.

Metal Shingle Roofing
Sleek MetroSHINGLE® roofing panels give your roof a crisp, clean look with unequaled high-tech durability. With the incredible strength of modern stone-coated steel, MetroSHINGLE provides the cleanest roof lines.
MetroSHINGLE panels come in a wide range of colors that will enhance the appearance and durability of your home. Traditional shingle roofing can weather and separate after a few years and is vulnerable to high winds. MetroSHINGLE is backed by a 50-year material warranty and easily outlasts and outperforms standard shingle roofs. This ensures the total security for your home or business from the top down.
MetroSHINGLE panels installed by the Western Products roofing division are environmentally safe, easy to install and are a cost-effective choice.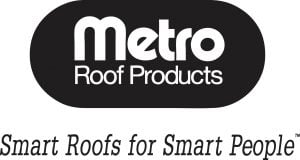 Get a Free Estimate from the Experts in Metal Roofing in Fargo, ND
Find out how affordable a durable metal roof can be. Call Western Products for a free quote today at 800-743-3632, or simply fill out our convenient online request form.